Thanksgiving has come and gone, and now Christmas is next up! You know what that means…BUY BUY BUY! The annual problem is coming back: What do I get the Disney Fan in my family? Well, that is why I am here to help! This will be the first in a series of Holiday Gift Guides for that Disney fanatic in your life, or for yourself :). This time around we are going to cover Disney film gifts. Also, I have included one "Toys for Tots" option, and I will every guide. A small gift that doesn't use up your spending money, but still a great gift to give to those who need it most. Let's get to the first group of gifts!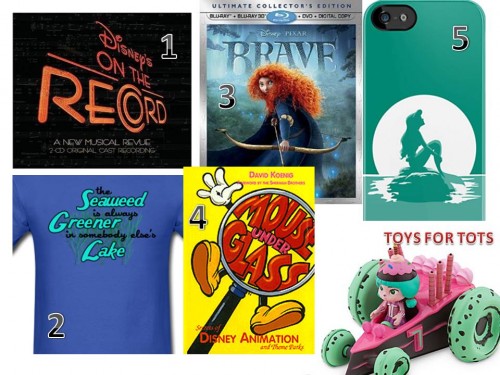 1) Disney's On The Record– I believe I have mentioned this before on the blog…but I will mention until every Disney fan in America owns a copy. I discovered this failed Disney musical a few years ago and have been addicted ever since. It was Disney's first entry into the Jukebox musical department, featuring songs from Disney's movie library (and some Sherman Parks music for good measure) and mashing them up in a way where beautiful harmonies and chords seep out of the classic music we all know. Ashley Brown starred in this (who later went on to become Broadway's 1st Mary Poppins) and she shines in her solos, like Reflection and Lavender Blue). You can get this on iTunes or Amazon (maybe even by using our Amazon link! Proceeds from all your purchases help out the site!).
2) Shirts by Grinning Bobcat– Found this site a couple months ago and I am in love. The designer makes shirts TARGETED to Disney fans! There are shirts like the one above, with fun song lyrics, there are also shirts with 8-Bit Disney characters, ones with the character's outline made up of words that relate to them (my Peter Pan shirt has his hat made up of the words "Second Star to the Right"). Over all, really neat designs for great prices. You can check them out on grinningbobcat.spreadsheet.com.
3) Brave on Blu-Ray Combo Pack– I had to put this down because I love it so much. I saw it 4 times in theaters it was THAT good…or I just have a problem. Anyways, if you didn't catch it in theaters (I AM ASHAMED!), get ready for a sweet and interesting story, a wonderful score, and gorgeous animation. Check it out with special bonus features and commentary. You can pick it up almost anywhere, but only via this Amazon link will portion of your purchase come back to us!
4) Mouse Under Glass by David Koenig – Some of you might be familiar with David's name since he wrote the compelling "Mouse Tales" on the parks, but did you know he wrote one on the history of Disney Animation. A great book with funny and interesting stories about what happens behind those Animation Department doors. Must-Read in my eyes. You know what I am about to say…pick it up on Amazon using this link!
5) Little Mermaid iPhone case– Last year I really wanted a Pan-Am case and while searching I came upon redbubble.com, a website where artists can put their own designs up and gain a profit. The Disney art is incredible, like this beautifully detailed Little Mermaid case. The prices aren't bad for iPhone cases, but I can assure you that they are EXTREMELY protective. Head over to this link for the Little Mermaid case, but don't be afraid to search "Disney" and see where the site takes you!
Toys for Tots Pick) Wreck-It Ralph Sugar Rush Racers I loved Wreck-It Ralph, like many, so who wouldn't want to brighten a child's eyes with a fun racing car straight from Sugar Rush!? A great gift to stick in the donation boxes. They are usually 9.50, but have been known to be on sale frequently. Check them out on the Disney Store website.
There is the first guide! Leave ideas for other gift guide themes in the comments below. Until next time…Happy Holidays and Have a Magical Day!