I'm back for part 2 of my Holiday Gift Guide series! Last time we covered Disney Film related gifts (fortunately, a lot of people were interested in On The Record! I TOLD YOU!), but now we are covering ABC, since it is Disney and I am obsessed with all things TV (though Once Upon A Time is losing me…but that is for another article), I thought up some fun gifts for that TV fan in your family! Here is the next set of gifts!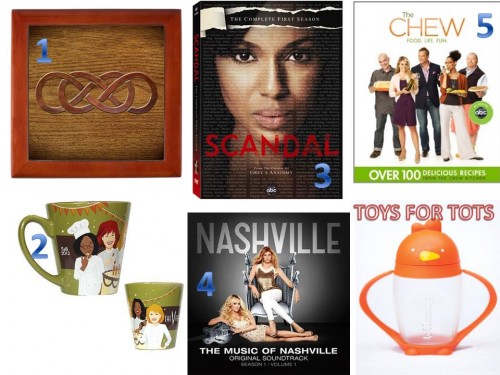 1) Revenge's Infinity Box- I don't know about you, but I love Revenge. The Hamptons, the juicy stories, the evil Graysons, and the loves-to-kick-butt Emily Thorne/Amanda Clarke…how can you go wrong. When I saw this box though, I had a major fan freak out! This scaled down replica of the box where Emily/Amanda places all her knowledge of her father's un-terrorist past has the signature "I love you infinity times infinity" symbol on the top. A great addition to any Revenger's room. Available on Amazon…where you can help out this site simultaneously!
2) The View's Fall 2012 Mug- Now, I love Daytime TV, along with many other people across the country. Although a lot of competition has appeared over the years, The View has stayed strong throughout it all. Through out those years, they have kept the tradition of seasonal mugs available for sale as well. Most likely, if you are able to watch Daytime TV…you are drinking coffee while watching. So, why not drink coffee out of The View's mug while watching The View!? It is like ABC INCEPTION! By the way, this mug is the 16th season version, which makes it cooler than normal! You can find it on the ABC Online Store (Don't forget D23 members, you can get a discount on the ABC.com store!).
3) Scandal Season 1 on DVD- OH MY GOODNESS! If you are not watching Scandal, chances are that we aren't friends. KIDDING, but the point is that this show is incredible! When I first saw that it was by Shonda Rhimes, I was a little nervous since I don't really care for Grey's Anatomy…but I was SO proven wrong. The incredibly well written and juicy drama about a "problem-fixer" in Washington D.C. and a scandal surrounding the President of the United States sounds a little bland on paper…but the show is FANTASTIC! I can't recommend it enough! You can get it on Amazon using the link that helps us out!
4) The Music of Nashville CD- This comes out in mid-December and I can not be more excited! I have loved this new TV entry this season, but the music makes it 20 times better. All the actors and actresses (including Connie Britton) sing themselves on the CD and they sound GREAT! Definitely on MY  Christmas List! Personally, check out "No One Will Ever Love You" and "If I Didn't Know Better"…wonderful tunes! You can get this on Amazon as well (look how much you can help out the site by buying gift guide stuff!).
5) The Chew Cookbook- The newest entry into ABC's Daytime slate has been the very successful The Chew. This cooking/lifestyle show is tons of fun thanks to 5 inviting hosts (I am the biggest Carla fan…have loved her since Top Chef!) and delicious recipes. They took all the best from the show and compiled them into one yummy cookbook! A great buy for the chef in your family! All I am going to say is…AMAZON!
Toys for Tots Pick) Lollacup- You might be thinking…how is this ABC? Well, this was featured last season on ABC's hit reality show Shark Tank. The sippy cup solves the child's problem of the cursed sippy straw. If you tip the cup back, you can't get the rest of the drink! WELL…the Lollacup solves that problem! The straw is weighted at the bottom, so it always falls right where the liquid will be. The cup comes in a variety of fun colors and is BPA-Free.  A fun, useful choice for the Toys For Tots bin. You can get it over on the Lollaland website.
That finished off my ABC choices! Are you going to pick some of these items up for others? For yourself? DON'T YOU JUST LOVE SCANDAL!?! Let me know in the comments below! Also, let me know what other themes you would like to see. Disney Channel? Disney Parks? Marvel? Tell me what you would like to see! Until next time…Happy Holidays and Have a Magical Day!