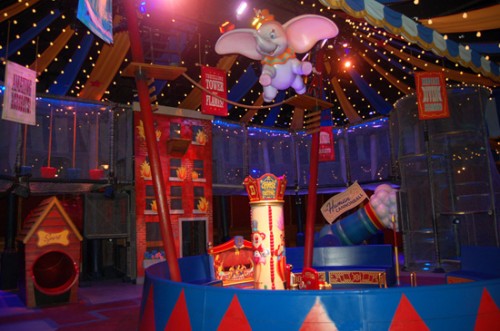 I'll be heading out to the beach at the Polynesian tonight to watch the Magic Kingdom's 4th of July Fireworks show one day early. It's become something of a tradition with the Frost family. The sound is piped in, there's no crush of the crowds, and you can see the perimeter fireworks without craning your neck.
The last few trips to the Magic Kingdom have started another new tradition – a visit to the Dumbo The Flying Elephant Interactive Play Queue.
My son is having a great time running through the rafters and bounding around in the sets created by Imagineers to entertain the tots while waiting for the queue to drop down. But even with a half dozen visits, we're still noticing new details in the lounge. Take these fiber optic fireworks that explode above you after you pull the fuse on this box of fireworks.
The air conditioning in the indoor queue is nice and the kids are certainly entertained. However, I'm still a bit confused as to the purpose of the play area. The last few times I was on it, guests were asked if they wanted to enter the queue. If not, they just proceeded as normal in a standby queue until the merge point with Fastpass holders. That works basically like every other attraction with a fast pass.
This means, if you do take the beeper and enter the lounge, all you are doing is letting all those people on the ride in front of you and delaying your ride on Dumbo. The play area is great, but if it has no positive impact on one's wait time for the ride, I just don't see the point of coupling it to the queue. In fact, it has a negative impact on your wait.
On a busy Saturday the longest standby time I observed for the new larger capacity Dumbo was posted at 25 minutes, but the actual wait was more like 10. Even on a hot summer day, ten minutes for Dumbo was only possibly very early or very late in the day. But the new larger capacity ride is keeping the wait short. We're not talking a lot of extra time if the standby queue was de-coupled from the interactive play lounge.
I'm sure park operations is still working out the kinks in how this system will work. But right now, I'd rather just head into the play area for as long as my son wants to play there and then enter the standby queue or perhaps just return to the park.