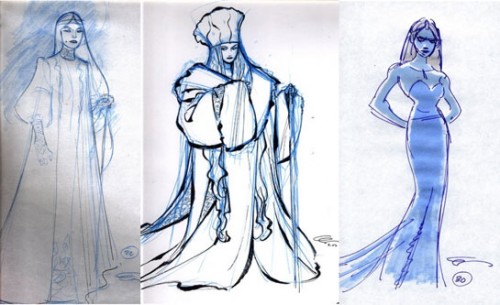 Walt Disney Animation Studios recently made it official, the next animated feature after "Wreck-It Ralph" will be "Frozen." Frozen has its roots in the the Hans Christian Anderson story "Snow Queen" and has roots back to the days when Walt Disney himself still ran the studio. The great Marc Davis had done extensive pre-production art on a "Snow Queen" theme park attraction. That's not to say that "Frozen" will be that movie. The 2013 version of the story will be very different than Walt's original idea.
"Frozen" will be an epic tale of adventure and comedy. The computer-animated feature film is slated for the big screen in November 2013. Directed by Chris Buck ("Tarzan," "Surf's Up") and produced by Peter Del Vecho ("Winnie the Pooh," "The Princess and the Frog"), "Frozen" features the vocal talents of film/TV/stage star Kristen Bell as Anna, a young dreamer about to take the adventure of a lifetime, and Tony Award ®-winning actress Idina Menzel as Elsa the Snow Queen. The movie will feature original songs by Broadway greats Robert Lopez and Kristen Anderson-Lopez.
In "Frozen," a prophecy traps a kingdom in eternal winter, so Anna (voice of Bell) must team up with Kristoff, a daring mountain man, on the grandest of journeys to find the Snow Queen (voice of Menzel) and put an end to the icy spell. Encountering Everest-like extremes, mystical creatures and magic at every turn, Anna and Kristoff battle the elements in a race to save the kingdom from destruction.
Bell has starred in a variety of films, including the comedies "Forgetting Sarah Marshall" and "Couples Retreat," and the upcoming films "Hit & Run," "Some Girls" and the Farrelly Brothers' "Movie 43." On the small screen, Bell is currently starring in the Showtime series "House of Lies" alongside Don Cheadle; she has also starred in "Heroes" and "Veronica Mars." Broadway credits include "The Crucible" and "Tom Sawyer."
Menzel, who won a Tony Award® as Best Actress in a Musical for her role as Elphaba in Broadway's "Wicked" (2004), landed her first role on Broadway in 1995 in the Tony Award-winning musical "Rent." Film credits include "Enchanted" and the feature film "Rent." She has appeared in a recurring role on TV's "Glee" and recently released "Idina Menzel Live: Barefoot at the Symphony," a live concert with an orchestra led by composer/conductor Marvin Hamlisch. Menzel is currently on a North American concert tour.
Robert Lopez is a three-time Tony Award®-winning writer of the Tony and Grammy® Award-winning musical "The Book of Mormon," which was co-written with Trey Parker and Matt Stone ("South Park"), and the musical "Avenue Q," which ran for six years on Broadway and four years in London's West End. Lopez teamed with wife Anderson-Lopez, whose Drama Desk-winning show "In Transit" is Broadway-bound, to write original songs for 2011's "Winnie the Pooh," a stage version of "Finding Nemo" and a new musical called "Up Here."