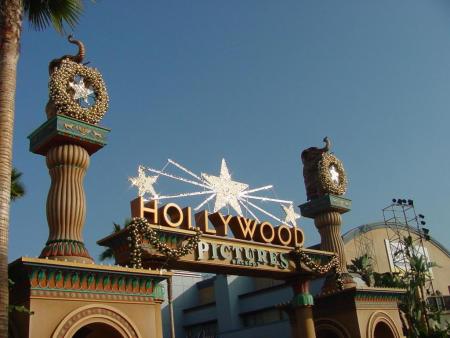 AP and D23 previews of Carsland and Buena Vista Street are in full swing, and they are looking fantastic! The rides, shops, and restaurants are all themed incredibly by the WDI team. I have heard that they will be having some outstanding holiday decorations this November-January…and with a segue like that, I unveil what we will be talking about in this article, DCA's past Christmases! Now, only two major things have left over the course of 11 years, but I did want to talk about them before June 15th…so here we go!
LuminAria was the first holiday show the park featured, as well as being the precursor to World of Color. This 17 minute ode-to-Christmas featured low level pyro, large screens/projections, and a gigantic Christmas tree that seemed to grow out of the lagoon. Classic Christmas tunes were melded together with the LuminAria theme song to create the soundtrack for this nighttime holiday extravaganza.
The main point of the show was featuring kids artwork describing what the holiday's mean to them. They could have gone to a building across from Golden Dreams and drawn a picture about the holidays, then cast members would choose and scan a set number, and those chosen would be projected in the middle of the Paradise Pier Lagoon. While not getting terrible reviews, the anger towards the show was caused by the large amounts of smoke that would blow into the seating area, since the pyrotechnics were ALL low-level. The show ran until January 6th, 2002. I have linked below the soundtrack to the show.
Santa's Beach Blast came next on the DCA holiday timeline, beginning during the 2003 holiday season. This "experience" took a different viewpoint on Santa. Since he is a hard working man, he ALWAYS goes to California for his vacation, and this area (set up in Sunshine Plaza) was just that. Santa met with guests in his beach attire, a Hawaiian shirt and cargo shorts, all while continuing to don his famous red hat. The area also featured an a capella group and small band doing their renditions on classic holiday songs. Though its goal to bring in more guests didn't succeed, it continued to stay until the holiday season of 2007.
There you have it, 11 years of holiday events in 3 easy paragraphs :) Do you miss these events? Do you want to see one of them come back this holiday season? Are you still singing the LuminAria theme song? Let me know in the comments below? Next time, I will be writing about Paradise Pier, then we are done with this series! June 15th will be here before you know it! Until next time…Have a Magical Day!