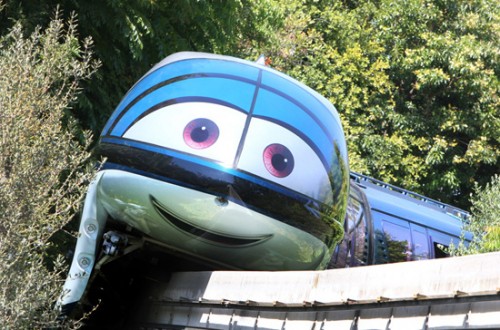 You know that feeling you get when you see something for the first time and it makes so much sense that you can't believe it hadn't been thought of before? Yeah, that just happened at the Disneyland Resort in Anaheim.
With the debut of Cars Land in Disney California Adventure less than a month away (June 15) the monorails at the resort have been given a Cars makeover. The three new faces are Mandy (Blue), Mona (Orange), and Manny (Red) Monorail. Mandy and Mono Monorail are already running and Manny will be joining them shortly.
It's not just the outside of the monorails that have been given a facelift, but the announcements heard along the ride will now be handled by each of the characters. Yes, I just called the monorail a character. Welcome to DCA 2.0, people.
The only thing I'm curious about is the wording of said announcements: "Please keep your hands and arms inside… me," puts a whole new spin on safety.
What do you think of Mandy, Mona, and Manny Monorail at Disneyland Resort?