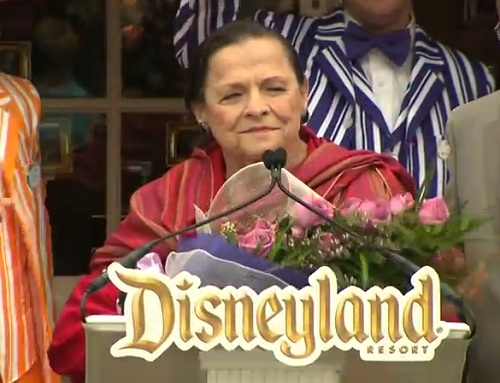 Finally things are starting look right at Disneyland. That empty window next to Marc Davis' has its pairing. Disneyland has honored Alice Davis with her own window on Main Street USA at Disneyland which serve as the 'credits' to the full experience of the park. There ceremony was star studded as far as Disneyland luminaries go.
Alice Davis was inducted as a Disney Legend in 2004 and is known for her work on the costumes for "it's a small world" and "Pirates Of the Caribbean," however, her accomplishments also include live action films, developing WDI standards, and is a brilliant artist and imagineer in her own right.
I've been writing about the need to correct this injustice since at least 1999. I mentioned the lack of windows for Alice Davis and Mary Blair in the 2nd month of this blog and later added in Lillian Disney as another major oversight. Davis joins Harriet Burns, Cicely Rigdon, and Mary Anne Mang as the fourth woman to be honored with a 'credit' on Main Street USA at Disneyland. Let's hope that number quickly rises to six and higher as the company finally starts to recognize the contributions made by women in their cast, not just the men.
A full video of the ceremony is available below the cut:
What other women from the history of Disneyland do you think deserve a Window on Main Street?