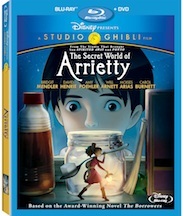 Walt Disney Studios and the legendary Studio Ghibli ("Ponyo" & "Spirited Away") proudly open the doors to "The Secret World of Arrietty" on Blu-ray™ Combo Pack and DVD, available now for pre-order for delivery on May 22, 2012. This visually stunning animated masterpiece stars an illustrious voice cast that includes Will Arnett, Amy Poehler, Bridgit Mendler, Moises Arias, David Henrie and the iconic and much beloved Carol Burnett.
Based on the acclaimed children's book series "The Borrowers," by Mary Norton, "The Secret World of Arrietty" is an imaginative tale of "little people" living furtively among us, and the unlikely friendship that forms when their hidden world is discovered. The heartwarming family adventure features beautiful, stylized animation and timeless themes of friendship, courage and determination.
In addition to the stunning Blu-ray hi-definition picture and digital sound, the 2-DiscCombo Pack includes an array of bonus features that will fascinate animation fans, including a storyboard version of the film and the original Japanese trailers and TV commercials. Additional features include music videos for the songs "Summertime" performed by Disney Channel star Bridgit Mendler, who is the speaking voice of Arrietty; and the movie's theme song "Arrietty's Song" performed by French singer/songwriter Cécile Corbel.
An enthralling story, with the English language version directed by 7-time Academy Award®-winner Gary Rydstrom, "The Secret World of Arrietty" is a remarkable filmmaking achievement that families will want to add to their home entertainment collections and enjoy over and over.
FILM SYNOPSIS:
Residing quietly beneath the floorboards are little people who live undetected in a secret world to be discovered. Arrietty (voice of Bridgit Mendler), a tiny, but tenacious 14-year-old, lives with her parents (voices of Will Arnett and Amy Poehler) in the recesses of a suburban garden home, unbeknownst to the homeowner and her housekeeper (voice of Carol Burnett). Like all little people, Arrietty (AIR-ee-ett-ee) remains hidden from view, except during occasionalcovert ventures beyond the floorboards to "borrow" scrap supplies like sugar cubes from her human hosts.
But when 12-year-old Shawn (voice of David Henrie), a human boy who comes to stay in the home, discovers his mysterious housemate one evening, a secret friendship blossoms. If discovered, their relationship could drive Arrietty's family from the home and straight into danger. From the legendary Studio Ghibli ("Spirited Away," "Ponyo") comes "The Secret World of Arrietty," an animated adventure based on Mary Norton's acclaimed children's book series "The Borrowers."
The film was directed by Hiromasa Yonebayashi and produced by Toshio Suzuki. Gary Rydstrom directed the English-language version of "The Secret World of Arrietty" from a screenplay written by Karey Kirkpatrick. The producers include Kathleen Kennedy and Frank Marshall. The original Japanese screenplay was written by Hayao Miyazaki and Keiko Niwa.
BONUS FEATURES:
2-Disc Blu-ray Combo Pack: (1 Blu-ray Disc + 1 DVD)
· Storyboard presentation of the film
· Original Japanese Trailers and Television Commercials
· "Summertime" Music Video – Performed by Bridgit Mendler, the speaking voice of Arrietty.
· The Making Of "Summertime" Behind the Scenes – Bridgit Mendler hosts a look at the making of the music video.
· "Arrietty's Song" Music Video – Experience the movie's theme song, performed by innovative singer and harpist Cécile Corbel, who also wrote the lyrics.
1-Disc DVD: (1 DVD)
· "Summertime" Music Video
· The Making Of "Summertime"
DISC SPECIFICATIONS:
STREET DATE: May 22, 2012
Direct Pre-book: April 27, 2012
Distributor Pre-book: April 10, 2012
Suggested Retail 2-Disc Blu-ray = $39.99 U.S./$46.99 Canada
Pricing: 1-Disc DVD = $29.99 U.S. only
Feature Run Time: Approximately 95 minutes
Ratings: U.S. G/Canada G
(Bonus Features not rated)
Aspect Ratio: Blu-ray – 1.85:1 1080p High Definition
DVD – Widescreen/1.85:1 – Enhanced for 16×9 Televisions
Blu-ray Audio: English 5.1 DTS-HD Master Audio
French 5.1 Dolby Digital Language Track
Japanese 5.1 DTS-HD Master Audio Original Production Audio
English ESL & SDH and French Subtitles
DVD Audio: English and French Dolby Digital 5.1 Language Tracks
Japanese 5.1 Dolby Digital Original Production Audio
English ESL & SDH and French Subtitles