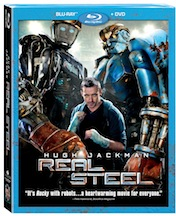 When I first heard of the movie Real Steel, I wondered why anybody would want to watch a movie based of that robot boxing kids game. The movie Real Steal is set around the sport of robot boxing, but it's not about robot boxing. Instead it's another heart-warming down on his luck sports star meets young kid and together they climb their way back to the top of the sport story.
That story has been made dozen times over and Real Steel is actually as good, if not better, than most of them. I know that's saying a lot, but I gave the movie a shot expecting just a special effects extravaganza, but it was the story that won me over.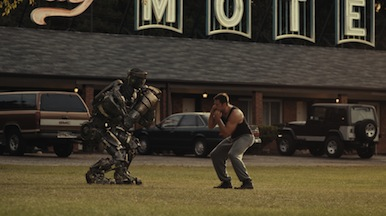 In the movie Hugh Jackman plays Charlie Kenton a down on his luck former boxer who gets stuck with his son Max, played with out too much of the cute-kid syndrome, by young Dakota Goyo. When Max discovers an old Robot Boxer with some unique abilities, the pair start off on a journey to repair their personal bonds and fight their way to the top of the sport. Here's a clip about Atom the robot found by Max.
While you may not have seen Real Steel in the theaters, it was the #1 movie in the country for two consecutive weeks during its theatrical run. Real Steel was directed by Shawn Levy (Night At the Museum franchise, Date Night and What Happens in Vegas) and produced by Steven Spielberg (Saving Private Ryan, Schindler's List) and they kept it right on course, full of heart, and beautifully filmed.
Additionally, I found the special effects to be quite good in the film. They seamlessly integrate real robot puppets with digital versions and used motion capture technology to film the fights. So there is some real emotion up there on the screen, even though the cast is sometimes playing to a green screen.
I received the The Blu-ray Combo Pack to review. It offers a variety of supplemental bonus features that take you ringside with Director Shawn Levy on the making of the film. Exclusive features include a bare-knuckled exposé of the life story of Charlie Kenton (Hugh Jackman), deleted and extended scenes that go deeper into the film and storylines, and a riveting profile with legendary boxing champion Sugar Ray Leonard. Plus, the revolutionary Real Steel Second Screen app lets viewers sync their iPad or computer with the Blu-ray movie to peel back layers of effects with progression reels, check out 360-degree turnarounds of the robots, explore seamless branching pods that delve into the cutting-edge technology used to create the fights, and much more.
I also liked that the DVD copy of the film comes with a good number of special features of its own, including the directors commentary. That means you can buy the combo-pack even if you only had the DVD today and plan to get a blu-ray player in the future.
Real Steal is a Dreamworks film and was distributed by Disney's Touchstone Pictures division. You can pre-order the DVD or Blu-ray on Amazon today.
BONUS FEATURES:
3-Disc Blu-ray Combo Pack (1 Blu-ray Disc + 1 DVD + 1 Digital Copy)
All 2-Disc Blu-ray Bonus Features
All DVD Bonus Features
2-Disc Blu-ray Combo Pack (1 Blu-ray Disc + 1 DVD)
REAL STEEL SECOND SCREEN
Countdown to the Fight—The Charlie Kenton Story
Sugar Ray Leonard: Cornerman's Champ
Deleted and Extended Scenes with introductions by Shawn Levy
—Extended "Meet Ambush"
—Deleted "Butterfly" Storyline
PLUS All DVD Bonus Features
1-Disc DVD (1 DVD)
Making of Metal Valley
Building the Bots
Bloopers
HIGH-DEFINITION & STANDARD DEFINITION DIGITAL
Sugar Ray Leonard: Cornerman's Champ
PLUS All DVD Bonus Features