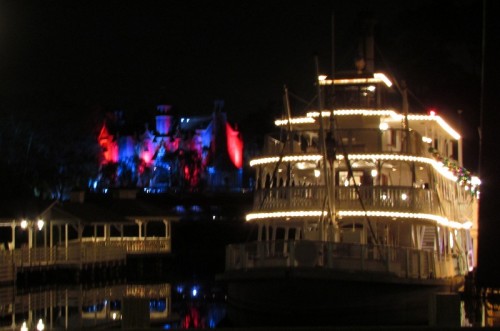 There are plenty of Disneyland events that longtime Disney theme parks fans remember fondly (no, the Light Magic 'premier' isn't one of them). One of the most talked about events, even today, is the 60-hour event for the 1987 opening of Star Tours at Disneyland. Much fun and little sleep was had by most of the participants and fans have been clamoring for a repeat ever since.
This year Disney is answering those calls and bringing back the extra-hours party with 24 hours of fun at Disneyland and the Magic Kingdom. The day they've chosen to hold this event is appropriately the 'extra day' of 2012, February 29th. Yep, it's a leap year.
For the first time ever, both the Magic Kingdom Park and Disneyland Park will stay open for 24 hours straight as part of a bi-coastal salute called "One More Disney Day." From 6 a.m., February 29 to 6 a.m., March 1, 2012, local time, guests can fill the extra day of leap year with a marathon of Disney magic and fun.*
And for 60 days straight – from Jan. 1, 2012 to Feb. 29, 2012 – a daily winner will be chosen in the "Disney Parks One More Disney Day Sweepstakes" to receive a Disney Parks vacation. One entrant each day will win a vacation for four to make memories at either Disneyland Resort in California or Walt Disney World Resort in Florida.**
For the past year, Disney Parks has invited guests to "let the memories begin," noted Tom Staggs, chairman of Walt Disney Parks and Resorts.
"We're honored that so many guests have shared their Disney memories with us as part of 'Let the Memories Begin', and I'm pleased to announce that the campaign will continue throughout 2012," Staggs said. "To celebrate, for the first time ever, the Magic Kingdom and Disneyland Parks will remain open for 24 hours on Leap Day, so that our guests can take advantage of every minute of their extra day to make memories with friends and family."
Find out more information about "One More Disney Day" and get official rules for the "Disney Parks One More Disney Day Sweepstakes" at www.OneMoreDisneyDay.com.
Are you planning on attending this event? If so, are you concerned about capacity issues? It sounds like they won't have every attraction open, so the park will be running at something less than full capacity anyway? What sort of special entertainment and events would you like Disney to fill those extra hours with?