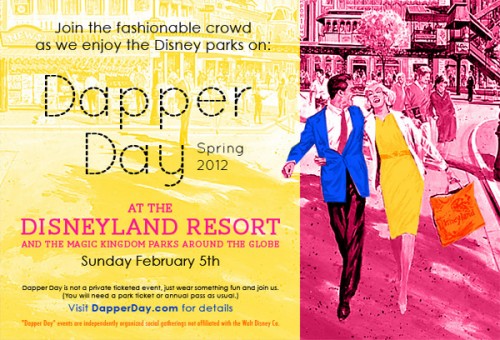 Are you a dapper sort? Someone who longs for the day when a suit and tie was appropriate garb for visiting a Disney theme park? Well, your fellow fashion friends are assembling for a swinging good time at every Magic Kingdom around the globe. The day is Sunday February 5th and meet times for Dapper Day – Spring 2012 are now up on the website. That means it's time to get your outfits together for some jolly good fun.
According to the website, the idea for Dapper Day came from:
The original Disneyland designers frequently populated their renderings with guests dressed for a day of sophisticated entertainment – men in sharp suits, toddlers working two-pieces, and ladies looking like pages from Dior's sketchbook – all as if a visit to Disneyland were on par with a night at the opera. And why shouldn't it be? That's what this Dapper Day is about, realizing those designers' dreams that (for one day at least) the park be filled with guests dressed fashionably and ready for fun.
If that sounds like something you want to honor, then dress to your interpretation of the designer's intent. Most of all bring cameras, stage impromptu photoshoots, and then post the results online.
For Disneyland: The park has been open since 1955, a period "Mad Men" look is as correct as the latest haute couture. Give us color, glamour, and sophistication no matter what decade you choose!
For Magic Kingdom: The park has been open since 1971, a disco-era look is as correct as the latest haute couture. Give us color, glamour, and sophistication no matter what you choose!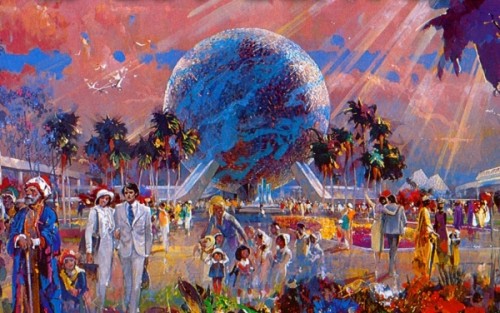 This is my favorite Herb Ryman painting. I love the styles and the colors and would love to see the park actually populated with people dressed like this.
Please note: "Dapper Day" is an independently organized social gathering neither operated by nor associated with The Walt Disney Company. Dapper Day events are not private ticketed happenings, but simply a day stylish folk have decided to visit the Disney park(s) en masse. If you are dressed in a way that appears to be a costume, or a park cast member, you may be asked to make modifications (like adding a jacket) so other guests don't mistake you for an employee.