Editor: please welcome Rob Shahan who will form the other half of our Dancing With the Stars recap duo.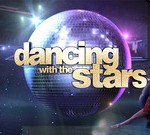 Hi there everyone and thanks for dropping by this week's Dancing with the Stars Blog! This week's episode was entertaining and upbeat as each dancer had their choice of jammin' to either the Jive or the Quickstep.
First off though, a little background on yours truly.  I am a huge TV fan but am lacking in the dance knowledge department.  Sure, I can groove on the dance floor (after some liquid courage) but I will leave the dance technique judging to the experts.  I will bring a light hearted and fun perspective to the blog as well as my witty humor.
Hope Solo (no relation to Han) and her dance partner Maks Chmerkovskiy were up first. Earlier this year she wowed a worldwide audience as her USA Women's Soccer Team finished second to Japan in the World Cup and now she is trying to kick (pun intended) that athletic prowess over to the dance floor. Dressed in a soccer jersey (including high-heel  Converses – is Converse the official athletic footwear of DWTS?) and dancing the Jive, she gave us a sexy shimmy at the beginning of the dance and had fun throughout. The judges said she lost some of her kicks and flicks (note to self, I need to look up the definition of "flick"), she could use a little more rehearsal and relax a little more.  No one on the show is more athletic than Hope (and she cleans up very, very well).  The judges moved their critical opinion to the scoreboard and gave her an overall score of 19.  p.s. Judge Bruno later said flicks come from the knee – I am learning!
Kristin Cavallari and I have a history.  Earlier this year I sent her and her then-finance Chicago Bears quarterback Jay Cutler a wedding gift. Sure it was the least expensive item on their registry but I thought a thank you note from them would be a unique memento to have in my sports room.  They received the gift and were kind enough to send me a thank you card!
Kristin and her partner Mark Ballas danced the Quickstep to Diamonds Are a Girl's Best Friend.  She wore the classic, long Marilyn Monroe white dress and looked totally stunning and very similar to the blonde bombshell (mole on the cheek and everything!). Judge Bruno noticed she almost missed the ending while Judge Carrie Ann said Kristin was elegant and sophisticated. Judge Len brought out the daggers and said she looked fantastic but wasn't as good as she looked, the footwork could have been cleaner and they broke hold which is against the rules (there's a Dancing Rulebook?). The judges gave them an overall 22 score.
The best thing about seeing David Arquette is seeing his lovely (and estranged) wife Courtney Cox Arquette Cox Arquette Cox in the ballroom rooting him on…or perhaps rooting for him to fail? David and dance partner Kym Johnson hit the floor with the Jive dance. David seemed like he was having fun out there, was enthusiastic and tried to be as comfortable as he could. Judge Carrie Ann noticed he lost control a few times. Judge Len brought the biggest criticism and said any connection between David's dance and the Jive was a coincidence, the technique wasn't there. Judge Bruno said we told him not to hold back but it looked like a derailment. Bruno did say David is starting to find his persona and building his confidence and next week (next week? Does Bruno know something we all don't?) David will get his technique right. One question from me, did David and Courtney go home together? Judges overall score was 18.
Last week, Elisabetta Canalis and her dance partner Val Chmerkovskiy finished next to dead last. The flashback to their dance rehearsals this week showed Elisabetta and Val frustrated at each other and Elisabetta walking away from Val while he was telling her this is her competition and her dance steps.  Tonight they danced the Quickstep in elegant wear. They had springs in their steps and it appears that Elisabetta took Val's dance advice to heart. Judge Len said it was not great but better than last week.  Judge Bruno was definitely impressed; he said they were "Back on track, gears were grinding, the engine was hot, and the pistons were pumping" (not sure if Bruno was judging a dance contest or a muscle car show!) Judge Carrie Ann said Elisabetta totally came back and nailed it. After the dance Brooke Burke asked Elisabetta about this week's tension in training and Elisabetta apologized to her partner Val. They received an overall score of 21 from the judges – including only 7 from Bruno who earlier couldn't stop raving, better pace yourself Bruno, it's a long season!
I may be the only person in America that hasn't been Keeping up with Kardashians. In fact, I had to ask my teenage daughter who in the heck they were! Rob Kardashian and his partner Cheryl Burke dance the Jive this week.  During the rehearsal flashbacks, you could tell Rob is definitely image conscious. Bless his heart!  Some of us (yours included) are image conscious as well. But Rob has the courage to go on national television and do his best. Here's hoping more dances will give Rob the confidence he needs to be successful, not only with DWTS but, more importantly in life! The judges noticed it too; Judge Dreary Len said it was a proper performance and a great improvement. Judge Bruno noticed Rob's improvement and Judge Carrie Ann said "its official, Rob Kardashian is a better dancer than Kim Kardashian". This really fired up the crowd especially Bruce Jenner! I guess Bruce likes Rob better than he likes Kim? I'm not sure; I still haven't kept up with the Kardashians. Overall score:  21.
Carson Kressley seems to be having a blast but readily admits he needs to learn how to dance and that he lacks coordination. Carson did mention they have great costumes on DWTS but with his nerd glasses, bow tie and green trousers; he must have missed the costume meeting! Carson and partner Anna Trebunskaya danced the Quickstep. This was a much calmer performance than last week's train wreck but still seemed like they were in trouble! Judge Carrie Ann said they looked wobbly and was afraid Carson was going to kick her legs out. Judge Len said if he held a knife and fork like Carson held Anna, he'd starve to death! Judge Bruno said it looked like they were dancing on banana skins but the entertainment was great. Overall Score: 18.
Ricki Lake and dance partner Derek Hough Jived this week to the Black Eyed Peas. And Ricki was not afraid to "Shake It" on the floor! She looked comfortable in her own skin and came away with a rousing performance! Judge Len said some of the steps disturbed him a bit but liked the fun and exuberance. To Judge Len's dismay, Judge Bruno noted that Ricki was the first person this week to do the kicks and flicks (from the knees) correctly! Judge Carrie Ann called it the best Jive of the night so far! The best information of the night came when Ricki said she has lost 12 inches in only 3 weeks! Go Ricki! Go Ricki! Overall Score: 23.
Up next were Chaz Bono and his dance partner Lacey Schwimmer. During the rehearsal flashback, Chaz was having trouble with his knees, especially his right one. You could hear it crack when he moved it back and forth! Ouch! He tried taping them and using salve. Chaz and Lacey took out some of the flashier dance movements and tried to make the dance less stressful for Chaz' knees. This made for a much simpler dance with fewer leg movements but unfortunately, the judges jumped all over it! Judge Bruno said Chaz looked like a little Ewok dancing with Princess Leia – like I said earlier, I'm not a dance judge but even I know that's no compliment! Judge Carrie Ann said she was sorry to see Chaz in pain but that's part of the show and that the score will have to reflect it. Carrie Ann said his charm can only take him so far. Judge Len reminded Chaz that the dance is a Quickstep and that he moves faster down the carwash! Ouch! Overall score:  17.
Last week Chynna Phillips and her dance partner Tony Dovolani finished tied for first. This week she apologized to Jesus for cursing during rehearsals. Dancing the Jive this week, Chynna looked like a natural dancing beauty! Showing sultry moves, Chynna moved around the floor like a cougar should! Judge Carrie Ann likes watching her dance. But she asked Chynna if she was injured because it looked like she was holding back. Judge Len said this show is about expectations, last week she attacked it and the judges were expecting more from Chynna this week. But he added it was good but not great. It needed more wow and exuberance. Judge Bruno said she can't hold back and once she goes full board, it will be extraordinary!  Overall score:  21.
Legal loud mouth Nancy Grace was next on the Dancing Docket.  Nancy showed her usual stubbornness during the rehearsal flashback when she told her dancing partner Tristan MacManus no when he asked her to do a move on her own; then no again when he asked her to show him the dance move; then no several more times when he kept asking her to show him the move. Some would say it was as if he was badgering a witness!  The dancing couple made nice later during their rehearsal (was I the only one that noticed that the counselor gave her partner the "kiss me now" look after she touched his face at the end of their making up talk?). This week they danced the quickstep and Nancy still appeared out of her element. But you can tell she (eventually) practiced hard this week. Awkward moment of the night:  After the dance, the camera showed one section of about 30 people in the stands not clapping, just sitting quiet and eerily still! Perhaps she prosecuted these fans in the past? Judge Len was impressed said how refreshing it was because it was a proper quickstep. Judge Bruno said Nancy needs to be vivacious, alive and confident and it was top heavy at times but is great to see her take on the dance floor and perform. Judge Carrie Ann said she definitely saw improvement from last week to this week but was looking for more razzmatazz and loves the teamwork. Overall score: 21 with Carrie Ann giving a 6 and Len giving an 8.
Lastly was US Army hero J.R. Martinez and his dancing partner Karina Smirnoff. First off, thank you J.R. for your service to our great country and everything you have done to ensure our freedom and the freedom of others! In last week's episode J.R. and Karina were tied for first place with a touching Viennese Waltz. This week they Jumped, Jived and then they Wailed (I will admit, when this song first came out I thought they were singing "Ya gotta drink and drive and then wail". This was a great song selection for J.R. and Karina. They never missed a beat, had upbeat and swift dance moves and brought the house down with their dance steps. Judge Bruno said J.R. has a feel for the music that comes from within him, the most satisfying overall performance of the night and was ecstatic with his performance. Judge Carrie Ann said it was great and fantastic but there was a lift and the lifts come later with the tango. Judge Len said the problem was it's not the label that is what's in the tin.  Meaning they did a Lindy Hop here.  It was a great dance and a joy but too much Lindy in it.  I still need a copy of that rule book!  After the dance, J.R. said: "I'm the guy who is least known and I don't have that many fans, I feel I have to work even harder to stick around in this competition." Overall score: 22.
J.R., keep turning in performances like last week's and this week's and you'll have just as big of a following as your dancing competitors, perhaps even bigger!
Follow Rob Shahan as he does the two-step on twitter @robshahan.