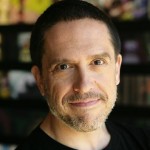 If you want to see how the proverbial Pixarian sausage is made, you'll have your chance with a new tumblr blog from Pixar director Lee Unkrich. The Toy Story 3 director recently tweeted about a big meeting and then announced a new endeavor, the start of production on a new, as yet untitled, Pixar film.
"Today is day one on my next project. Every day I'll post a new photo chronicling the journey," Lee tweeted yesterday.
Catch the photo a day updates on Unkrich's Tumblr blog and watch something new created from scratch. It's great that Disney has approved this sort of fan interaction and Unkrich has shown he's the perfect guy to do it.
(H/T Upcoming Pixar)