Star Tours 3-D has now opened at both Disneyland and Disney's Hollywood Studios and the crowds keep coming to see the 3-D attraction with over 50 possible ride combinations. Disney has just released this special promotional video that highlights the different destinations Star Tours guests could visit. They've even added a special cameo appearance by yours truly. Keep an eye out around the 1:04 minute mark:
Join me below the jump for the secrets of how this video was made:
That was a lot of fun to film. Yeah, it's the magic of forced perspective. The X-wing was resting on a table right near the camera and then I was about 30ft away looking up into nothing. All my movements had to be exaggerated so they would show up on camera.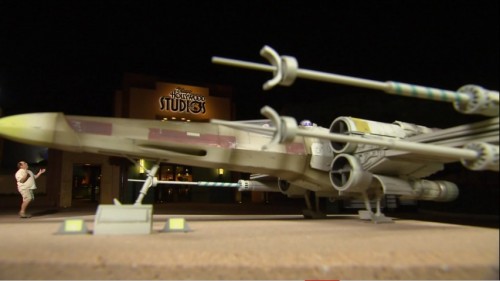 We were able to stay late after the kickoff party for Star Tours: The Adventures Continue and do the filming. The whole time they were doing final rehearsals for the next morning's dedication ceremony. There is a special kind of magic being in the park after-hours. Even that night when so much was going on, things still seemed special. A big thanks to Disney Press & Publicity for arranging this for me.