Disclaimer: My wife is an employee of Gatorland, however we attended as part of the media for this story, and her employee status has not changed our editorial review of the attraction.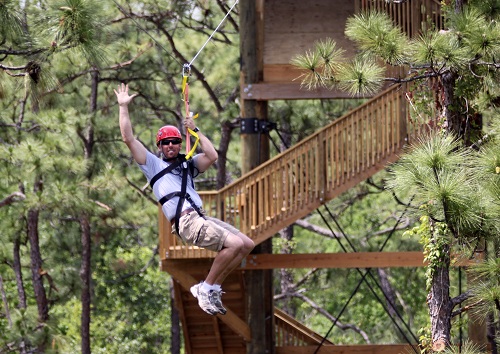 When visiting Orlando, don't forget to schedule a day for some of the minor amusement attractions. Gatorland has just zipped out their newest attraction, which could move them to the top of many a traveler's must do list. The Screamin' Gator Zip Line is an exciting outdoor adventure that covers 1,200 feet of high flying thrills in an experience that lasts over two-hours. It opens officially June 16th, but is currently taking reservations based on availability starting this week.
"We spent a tremendous amount of time designing this incredible experience that combines the most modern safety features available in a zip line with the raw beauty and excitement of Gatorland's natural exhibits and majestic animals," says Mark McHugh, Gatorland's president & CEO
The journey begins at the "Screamin' Gator Adventure Depot" where participants receive their gear and meet their adventure guide for a short safety orientation. The "Gator Grunt Run" is an introductory zip line with speeds topping 15-mph. Named after the sound made by baby gators, this 247-ft. line launches from a 45-ft. platform and promises to provide participants with experience and confidence as they prepare for the thrills ahead.
Read about the whole experience below the jump: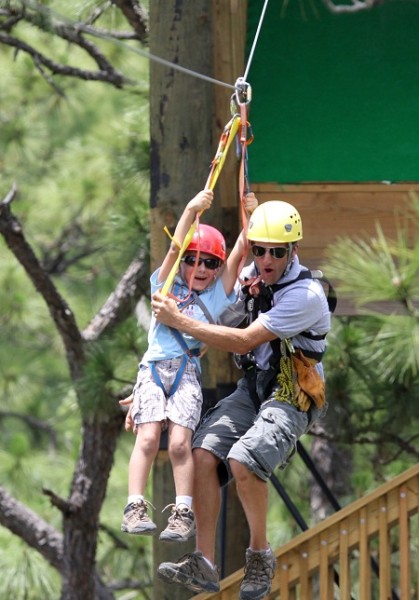 "We start you out nice and easy, with manageable speeds," said Mike Hileman, Gatorland Entertainment Director. "It's not overly challenging but will definitely prepare you for what's to come."
Participants then face the "Gat-OR Dun Run!" a breathtaking 287-ft high-flying zip line, soaring over Gatorland's American Alligators and Famous Jumping Cuban Crocodiles. This 20-mph flight brings participants face to face with Gatorland's star reptiles, a tropical waterfall and luscious landscape for an experience unlike any other.
From there, the wild adventure continues as riders enter "De-Nile," a spine-tingling jump from 50-ft, the height of a fivestory building! Flying over Gatorland's famous Nile Crocodiles at speeds of more than 20-mph, participants can"t help but immerse themselves in the beauty of Gatorland. You"ll sail past Dundee the Saltwater Crocodile and glance cautiously at. "Pops," one of the park"s oldest and largest alligators!
The fourth tower reaches 7-stories in the air and guests will travel more than 500-ft at speeds topping out at almost 30-mph. Aptly named "The Widow Maker," this section of the line flies over more than 100 of Gatorland's largest alligators in the world famous Alligator Breeding Marsh. Covering a 10-acre natural habitat, most alligators range between 10 and 12 feet long. You zoom over the alligator feeding area so hang on tight.
At the fifth tower, participants must walk the straight and narrow as they teeter across 162-ft. swinging bridge at the "Hold Your Water Crossing." Straight out of an action movie, zip-liners must balance their weight as the bridge shifts and moves with each step.
After closing the gap, participants can scope out the competition and challenge other jumpers to a dueling zip-line challenge on the final run, "Deliverance." Twin zip-lines launch from a 33-ft. tower and pit flyers against each other, with the winner reaching speeds of more than 30-mph!
"From the time our guests strap on their gear, and for hours after they finish, I guarantee they won't be able to wipe the smiles from their faces," said Hileman. "This is not your ordinary zip-line. From the entertaining guides to the exotic scenery and excitement of flying over alligators and crocodiles, Gatorland's Screamin' Gator Zip Line is a high-thrill, no skill ride, and perfect for every member of the family. If you can stand up, lift your feet, and scream, you"ll have a blast!"
There are a couple of restrictions to participate. You must weigh at least 60 lbs. and no more than 275 lbs, and must fit safely into the zip line harnesses. You also must wear closed toe shoes. You can't bring cameras or other items on the zip line (Lockers are provided). So add a few dollars to your budget to buy one of the photos the park's photo staff will take of you.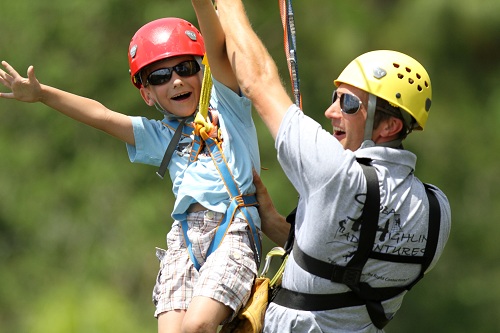 Obviously, this Zip Line experience is not for those who are afraid of heights or hate climbing. But it is a thrill that almost anyone can really enjoy. And you're not really climbing all 7 stories, as you arrive a few stories up in the air already. My 7-year old son had a blast riding tandem with one of the park's experts.
Those who have already been on the Zip line say the most important thing, after the safety checks, is to remember to look around and enjoy the landscape and the very unique perspective above the gator ponds.
The whole Screamin' Gator Zip Line adventure is just $69.99 which includes all day admission to Gatorland. A great affordable alternative if you can't fit some of the more expensive trek experiences in your vacation budget.
Flight times are available daily; reservations are required. Booking your adventure by logging onto www.Gatorland.com and clicking on the Buy Tickets tab, or call 800-393-JAWS.
Below the find a video of Gatorland President and CEO Mark McHugh taking the first official zip down one of the lines: