Editor: I would like to welcome Kevin Yee as a guest author. I hope it becomes a regular thing.
"Don't you ever get sick of it?"
That's the question that almost always follows the moment when a new acquaintance learns that I visit the Walt Disney World theme parks literally every weekend. The only exceptions occur when I'm speaking with equally rabid (but out of town) Disney fans, who often sigh and wish out loud they could do the same. The truth is, I don't get sick of it. I've been in love with Disney, particularly the parks, for a long time. From 1987-2002 I worked at Disneyland, leading eventually to a book called Mouse Trap that chronicled what it was like to work there. Since 1999 I've been writing online columns for multiple websites. And still I tingle with excitement each Friday, when the weekend looms over me like a mini-vacation, beckoning me toward Lake Buena Vista with a mouse-shaped, white-gloved hand.
Many of you reading this don't get sick of it, either – we are the true believers. And it's not that we keeping doing the same things over and over again. Einstein defined insanity as repeating the same thing ad infinitum, and yet expecting different results. I would protest to Einstein that it's not really the same each weekend. We go because it really is different each time, in subtle ways.
Certainly at least every month there's a new (or dramatically updated) establishment, such as a shop or restaurant. If you're like me, you're driven to see it, simply because it's Disney and it's new. Less frequent are the new rides and enhancements to the rides, but even those may occur every other month, on average. So there's lots to do. And that's not even taking into consideration how enormous these four parks and two water parks are – you could visit twice per week and still not make it to some corners of the parks until six months have passed. Something is definitely new by then.
Take the Orange Bird, the former mascot for the Sunshine Tree Terrace. He disappeared for decades from WDW, but surfaced this summer on T-shirts in Epcot's America pavilion… though I didn't notice those shirts until early October.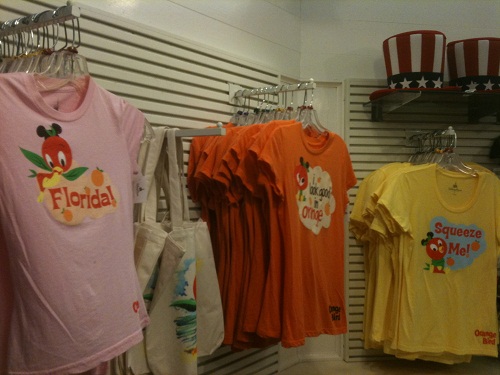 So not only do I fail to get sick of it, I get actively more excited as time goes by. You would think fandom would stop expanding past a certain point, but with Disney, it never does. After all, "fan" is short for "fanatic."
I'm excited by the prospect of sharing new things with readers of The Disney Blog (thanks to John for the invitation!) We fans like nothing better than to revel with others in our fandom.