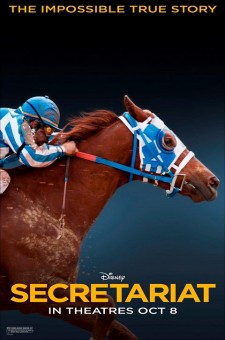 I've just returned from a late-Thursday screening of Secretariat (opens today) and I am pumped! The story of the Triple Crown-winning "Big Red" —and, more pointedly, the people who believed in him— makes for one of the most invigorating movie of 2010 so far.
In a way, it's like The Blind Side with a horse. Human emotions are provided by Secretariat's owner Penny Chenery, played effortlessly by Diane Lane. As for John Malkovich, portraying trainer Lucien Laurin, he's hilarious in every frame he's in—and most of all when he's grumpy.
Secretariat has some brilliantly shot race sequences. But the film never suffers from the appearance of having been made solely as an excuse to put the race sequences on film. The final nail-biting contest (in which the real-life Penny makes a cameo appearance as a spectator) anchors things superbly.
It didn't seem so at first, but it's a good thing I didn't have more time to write a review. I'd probably go on and on about how enjoyable Secretariat was (there was little I didn't like) and this review would sound like an advertisement. Go watch the movie!