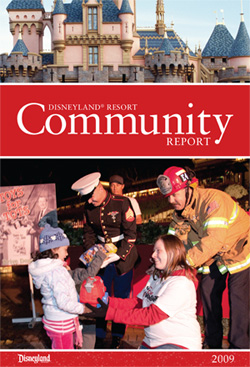 Disneyland Resort, Walt Disney World Resort, Disney Cruise Line, Disneyland Resort Paris, and Hong Kong Disneyland have released their individual 2009 Community Reports that provides a snapshot of eaches corporate responsibility efforts. The report outlines outreach efforts and contributions of the parks and their cast members, including cash, in-kind donations and volunteer time.
With a special emphasis on the well-being of children and families, the report addresses the Disneyland Resort's commitment to its employees, its guests, the environment and the community. The Disneyland Resort is proud of the many accomplishments in this report, which include more than 58,000 VoluntEAR hours donated, 43,000 tons of materials diverted away from landfills through recycling and donations and more than 500 wish trips granted to children with life-threatening medical conditions.
"Walt Disney World Resort and its Cast Members work daily to help realize the dreams of our community," said Meg Crofton, president of Walt Disney World Resort. "We actively seek ways to conduct our business in the most responsible way."
As the largest single private employment site in the United States, Walt Disney World Resort and its more than 58,000 Cast Members play a vital role in Central Florida. The 2009 Community Report details their commitment with a focus on Disney's accomplishments related to the environment, workplace and community, with a special emphasis on the well-being of children and families.
In 2009, Walt Disney World Resort contributed more than $28.5 million to community efforts, granted nearly 7,000 wish trips to children facing life-threatening medical conditions and generated approximately $586 million in taxes to Central Florida governments
For the most recent corporate responsibility report from the Walt Disney Company, please visit www.disney.com/crreport.