The world famous Harlem Globetrotters capped off an amazing day of ceremonies for the re-opening of ESPN Wide World of Sports complex. The Globetrotters put on a funny and technically wizard show as only they know how to do, and of course, the Generals lost. But what made last night special was the special appearance by some of the sports figures at ESPN WWOS for the event.
Tim Hudson, Brandi Chastain, Garrett Hartley, Chad Ochocinco, and Mike and Mike all had featured rolls, In fact, Golic and Greeny made a bet which Golic lost and resulted in this moment: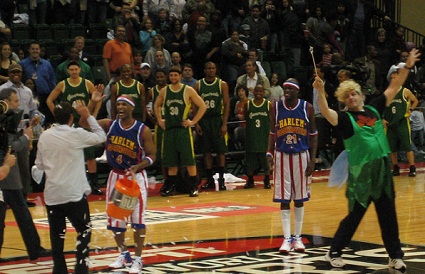 Yep. That's Mike Golic in a Tinker Bell costume.
The game was taped in 3D, which featured some amazing new innovative technology from ESPN. Let me just say that 3D technology is made for sporting events like this. It will be shown tonight at 7:00 p.m. ET on ESPN2, no 3d glasses require,  however.