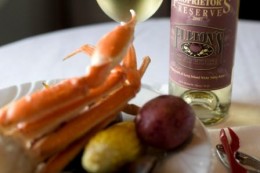 Have another announcement of a great dining experience at Downtown Disney. Its time to eat, drink and be merry at Fulton's Crab House. They're hosting a Holiday Wine Dinner on Sunday, December 13th, that's sure to get the spirits soaring.
The dinner features six courses of Fulton's specialty items, each paired with a complementing wine by Palmer Vineyards. The menu also showcases Fulton's very own wine blend! Tom O'Dea from Palmer Vineyards will also be speaking so guests can learn all about the Palmer wines.
The dinner is $49.95 excluding tax and gratuity and begins at 7 p.m. For reservations, please call 407-934-2628.
The menu is included below the jump:
Chilled Seafood Delicacies
Fresh Florida Stone Crab Claws, Alaska King Crab Legs, Blackened Sea Scallops with Cilantro Lime cream, Fulton's Mustard Sauce, Cocktail Sauce with Ground Fennel and Creamy Turmeric Remoulade
('07 Fulton's Proprietor's Reserve White, North Fork, Long Island, NY)
Imported and Domestic Cheese and Fruit
Brie, Gourmandaise, Fresh Mozzarella, Sharp Cheddar
Golden Ripe Pineapple, Fresh Raspberries, Kiwi Fruit and Mango
('08 Sauvignon Blanc, Palmer Vineyards, North Fork, Long Island, NY)
Autumn Pumpkin Soup with Cinnamon Cream
('07 Chardonnay Reserve, Palmer Vineyards, North Fork, Long Island, NY)
Fall Harvest of Fruits and Nuts
with Figs, Dates, Roasted Walnuts, Baby Mixed Greens
Port Wine Vinaigrette
Charcoal Grilled Venison Loin Oscar
with Asparagus, Spaghetti Squash
Cabernet Sauvignon Demi Glace
('07 Fulton's Proprietor's Reserve Red, North Fork, Long Island, NY)
Grand Marnier Soufflé
with Caramel Sauce and Gingerbread Crisp
('07 Late Harvest Gewuztraminer, Palmer Vineyards, North Fork, Long Island, NY)