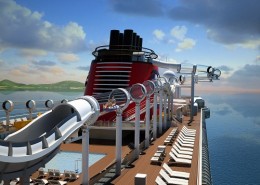 Hang on to those Hats and Glasses when you board the next innovation to come from the Disney Cruise Line. The new Disney Dream will debut the cruise industry's first-ever shipboard water coaster, a.k.a. the AquaDuck. The ride will take guests on a high-speed flume ride above the upper decks of the ship and even out over the ocean.
This is not Disney's first Water Coaster as they have one installed at Typhoon Lagoon at Walt Disney World Resort. It's a fun experience, for sure, being pushed up a hill by water plus all the usual thrills and spills of a regular water slide as well.
The AquaDuck Experience
Stretching 765 feet in length and spanning four decks in height, AquaDuck combines the thrill of a coaster with the splashing fun of a water slide as powerful water blasters propel guests around the perimeter of the ship's top deck. From high atop the aft funnel, on Deck 16, guests begin their voyage by boarding a specially designed two-person inflatable raft.
AquaDuck quickly takes an exciting turn. Starting with an initial drop, guests are suspended in a "swing out" loop that extends 13 feet over the side of the ship. Surrounded only by the crystal clear acrylic flume, guests get a breathtaking, unobstructed view of the ocean surface 150 feet below.
The excitement amplifies as riders experience the up-and-down sensations of a coaster and defy gravity in a torrent of gushing water. After an initial plunge, high-powered water jets accelerate guests upwards and forwards at a surging speed of about 20 feet per second, made possible by utilizing some of today's latest water coaster technology.
The ride continues as guests are whisked into an enclosed tunnel. Specialized lighting surrounding the flume provides a magical effect as riders travel through the forward funnel where kids in the tween club can catch a shadowy glimpse of guests through special windows as they whiz by.
Emerging from the funnel, guests swiftly glide along a stretch of river rapids 335 feet in length, providing a stunning panorama of the ocean and the ship's upper decks. Then comes a whooshing splashdown on Deck 12.
When the sun sets, AquaDuck immerses guests in a unique nighttime experience combining the thrills of this one-of-a-kind water coaster with customized lighting and amazing views of the nighttime sky.

AquaDuck Fast Facts
AquaDuck is the first and only water coaster onboard a cruise ship
The length of the entire attraction is about 765 feet
The length of the river rapids is about 335 feet
The overall height of the ride is roughly 46 feet – equivalent to four and a half stories
Approximately 10,000 gallons of water per minute propel guests through the attraction
The loop that extends over the edge of the ship is about 150 feet above the ocean's surface
High-powered water jets accelerate guests upward and forward at about 20 feet per second
There are three portholes in the tween club that provide silhouetted views of AquaDuck riders as they pass through the funnel
As a convenience to guests, a conveyor system lifts rafts up from Deck 12 to the ride launch on Deck 16
The minimum rider height requirement for AquaDuck is 48 inches