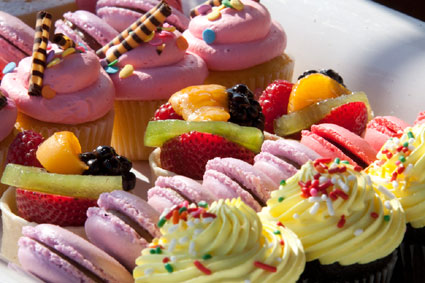 On Earth Day of all days, it's important to note that environmental impact is most often made incrementally. Disneyland Resort has recently opened a new green central bakery that will shift the famed attraction toward a safer, environmentally friendly, food experience.
As with all new construction at the Disneyland Resort, various environmental tactics were researched and implemented. One such initiative is the use of 14 solar tubes that provide natural lighting into the building, significantly reducing the need for electricity. Another effort in energy reduction is the use of ice makers that form an ice block over night and then send chilled water to the air conditioning system to help cool the entire building during the day.
In addition to saving energy, the building uses porous asphalt paving in the parking lot, which captures, filters and returns rain water back into the ground, serving as a natural recycling system. Water reduction is also a part of the conservation program with an underground sprinkler system that is used for the surrounding landscape. The system prevents water evaporation and works on a time clock with humidity sensors – reducing water usage.
"Being environmentally conscious is extremely important to us and we are proud that this new addition to the Disneyland Resort helps conserve resources in so many ways," said Disneyland Resort President Ed Grier.
The new, larger bakery was constructed in response to the Resort's continued growth. The new space is four times the size of the existing pastry kitchen at the Disneyland Hotel. Approximately 8 million products, ranging from wedding cakes to parfaits, are expected to be produced at the new bakery each year.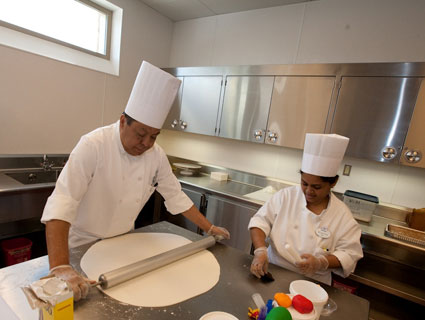 Cast Members Osvaldo Romero, a dinner cook, and Sujatha Sownderraj, a pastry chef and head baker work together on a delicious cake in the new environmentally friendly central bakery at the Disneyland Resort.
(Photo Credit: Disneyland Resort)