Launched in January 2008, the Walt Disney World Moms Panel is an online forum where guests can get insider tips and insights for vacationing at Walt Disney World Resort from real moms who have mastered the art of planning a Walt Disney World vacation. A new group has just been empaneled for 2009.
The Walt Disney World Moms Panel consists real parents selected to share their vast knowledge of the resort and personal secrets of success with other families who are considering a trip to Walt Disney World Resort in Florida. Guests can pose questions and have them answered by the panelists, as well as gain access to other valuable park insights and vacation planning tools for booking a Walt Disney World or Disney Cruise Line vacation.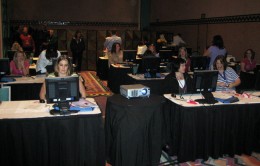 This last weekend the second group of panelists to serve on the Disney Mom's Panel was invited for a 3-day training session and a chance to get to know their fellow panelists better. Like last year's panel they've already met each other online before arriving in Orlando. The training included sessions on the software they're using, a 'Disney Traditions' experience, and other rare in the park opportunities.
The panel has grown from 12 members last year to 16. This will allow for more specialization among the members and help to handle any increases in traffic to the site. As on the first panel, there is even one Disney Dad among the moms.
Over 8000 applied online to become a panelist in 2009. Those were narrowed down to 125 prospects who were all phone interviewed before the final 16 were chosen. If you're looking to join the panel should it happen again, I found that more than half of the panelists had a communications or marketing background and almost all of them had what I would call an 'outgoing personality'.
For more information, visit disneyworldmoms.com. For more photos, check below the cut: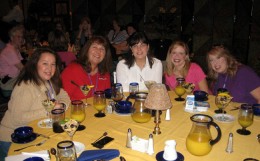 2009 Panelists: Jennifer W., Margeret F., Whitney P., Tanya M., and Jackie S. enjoy breakfast before the day's training begins.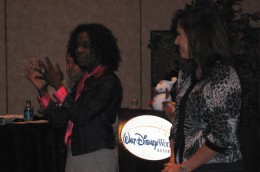 On the left is 2008 Panelist Laura S. who now works for the mouse and helps manage the Disney Mom's Panel. I apologize for the poor quality of the photo.
A big thanks to Disney for inviting us to get to know the panelists this year. Based on their talent and enthusiasm I predict another great year from the panel.