For fans of Disney's theme parks the choice often comes down to a trip to Hawaii or another trip to a Disney theme park. Usually the Disney theme park wins out. Well, starting in 2011 those fans will have to think harder about putting off Hawaii as Disney will have opened its new Oahu island resort.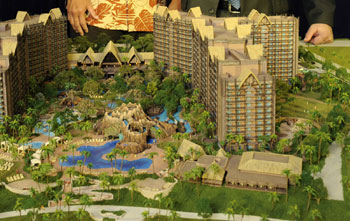 Disney unveiled a detailed scale model of the resort. It will have two towers, a convention center, a spa, restaurants, and a luxurious garden area with many water features.
The resort will feature 830 rooms, 350 for the hotel and 480 for Disney Vacation Club members and sits on one of Ko Olina's four man-made lagoons. When it opens it is expected to employ about 1,000 people.
Among the many water park type features will be the volcanic caldera which acts as a center piece to the area. A tube slide will take swimmers down an adventurous water course with rapids, a bubbling pool, some special effects and a plenty of surprising elements. Children will enjoy an aquatic play structure.
For the more adventurous a saltwater snorkeling lagoon will feature native fish and some other elements of Disney magic.
Most of the news reports question Disney going ahead with this plan despite the softening economy, but I think that by the time they open in 2011, the economy should be on the road to recovery and Disney will be positioned to take advantage of that with the latest resort to open on the Islands.
What do you think? Is this a good move for the mouse? I have to say that I'm going to start a second penny jar just to save money for a trip.