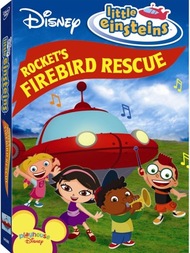 Pre-school starts on August 21st for my son. He's actually looking forward to it. At school ,one of his favorite activities is to sing and play instruments. He can name every instrument and imitate their sounds. The singing is partially inherited from me, but his knowledge of musical instruments comes almost totally from watching The Little Einsteins on Playhouse Disney.
In addition to the start of school there is a new Little Einstein's DVD coming out August 21st. Disney's Little Einsteins – Rocket's Firebird Rescue
features 51 minutes of Rocket and his new mysterious friend, Firebird. The regular foursome of June, Annie, Quincy, and Leo are there as well. Rocket's Firebird Rescue is the fifth DVD based on the popular show and we're looking forward to adding it to our collection.
The DVD comes with a few bonus features:.
"Magic Mission Mode" — In this alternate viewing experience, discover new animated pop-up fun facts while enjoying the movie
Bonus Episode: "Rocket Soup"
French and Spanish Language Tracks (useful if you're trying to teach your kid a second language, non?)
Here are three video clips from the new DVD that you can watch today:
The full synopsis is below the cut:
Synopsis:
Before you can say "Blast Off!" the Little Einsteins™ are zooming through the sky in a new movie that's jam- packed with action, music, magic and fun. Besides Rocket, what's big, red and can fly? Meet Rocket's new friend: the mysterious Firebird! She sprinkles magical music power everywhere she flies, filling the world with beauty and joy. But when a mean ogre captures Firebird, it's up to Rocket, Leo, June, Quincy and Annie to travel all the way to Russia to set her free and bring music back to the world. Soar over the golden spires of a Byzantine palace. Discover St. Petersburg, and explore snowy Siberia, where you'll meet a freshwater baby seal and much more. Remember, only with your help — singing, dancing, and playing instruments — can the Little Einsteins complete their mission and save the day. Inspired by the music of Igor Stravinsky's "Firebird" ballet and filled with messages of teamwork, friendship and compassion Disney's Little Einsteins – Rocket's Firebird Rescue
is a magical journey you and your preschooler will want to experience together again and again!
Label: Walt Disney Home Entertainment
Genre: Animation
Running Time: 45
MPAA Rating: Not Rated
Language: English, Spanish, French