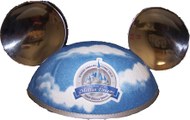 My son reaches the astonishing age of four this Tuesday and The Disney Blog is throwing a party. But don't send gifts, just enter this contest for chance to win some fun Disney prizes including a Dream Mickey Mouse Ears hat from Walt Disney World. All you have to do is write a post on your own blog and link back to this contest to enter.
See below the cut for How to Enter and a list of participating sites:
How to Enter:
Make a post on your blog with that answers any of these questions:

Have you ever celebrated your birthday at a Disney theme park? If so, tell us about it.
What is your favorite or most useful tip for guests of Disney's theme parks?
What is your favorite Disney theme park attraction or show and why?

Don't have a blog? Blogger, WordPress, Vox,
and many others are totally free and take five minutes to set up. Its
free and its fun even if you're just posting pictures of your Disney
vacation.

Include a link back to The Disney Blog in the post and send me an email
with a link to your blog post entry. (In your Subject put "Contest [The
Disney Blog]" to make sure you avoid my spam filters). The Disney Blog
is not responsible for lost or mis-filtered emails.
The first 13 people to email me with links to their posts
(according to the order received in my inbox) get two entries into the
contest! So write your post today!
Contest ends at 11:59PM August 30th. Prize winners will be randomly
drawn from all correct entries on September 1st. Winner will be
contacted via email and a winner list posted on The Disney Blog. If
shipping information is not received from the winner in 72 hours from
the posting of the winner list, I will redraw for that prize, and the
original winner forfeits their prize. Send in as many links as you
like, but each person will only get one entry (unless you're one of the
first 13, see above).

This Sweepstakes is open to all legal residents of the United States
and District of Columbia, U.S. Military personnel (and their families)
with APO/FPO addresses, who are eighteen (18) years
of age or older (void in Puerto Rico). Participation in this
Sweepstakes constitutes entrant's full and unconditional
acceptance of these Official Rules.
Prizes:
Grand Prize (1): One contestant will win one Dream Mickey Mouse
Ears hat from Walt Disney World. These special Mickey Ears are
not-for-sale at the parks and are available only to a few lucky winners
as part of the Walt Disney Company Parks and Resorts Year Of A Million
Dreams promotion.
First place prize (1): One copy "Spinning Disney's World" by Charles Ridgway.
Runners up (2): One copy Disney's Little Einsteins DVD – Rocket's Firebird Rescue (or a recent Disney DVD of similar value if Little Einsteins DVD is not available).
Entries:
1. Amy at FattyPants Blog
2. Julie at Fred Poets Society Blog
3. Adam at Rucker Blog
4. The Masked Blogger
5. Mehgan at Chubby Cheekers
6. Erica at Figments of my Imagination
7. Darcy at A Place of My Own
8. Douglas at The Arnold's Blog
9. Kristan at City Slicker Blog
10. Ray at Grumpy's Hollow Blog
11. Sephyroth at Sephy's Platzish
12. Anastasia at Enter Now
13. Dave at Daveland –
14. Zeke at Disney Mania Blog
15. Valerie at Val's Mom Blog
16. George at DisneyGeeks.com
17. Andrew at DisneyGeeks.com
18. Amy at A Family Story
19. Dan at sjthespian Livejournal
Thanks for reading The Disney Blog. I hope you have fun entering the contest!