Took my camera for a walk around Walt Disney World the last few weekends. Saw lots of good things and some bad things. Since this post is image heavy, I've put most of it below the cut. But I'll start with this grainy but exciting photo.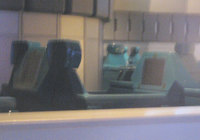 Spaceship Earth has a new sponsor and is getting a new story and some new scenes. It's also going to see some changes to the attraction vehicles including video screens so passengers can interact with the attraction. This is probably just a mock-up. But it was just sitting in plain view near the attraction exit. So I snapped a picture. Looks like each seat gets a monitor, a pretty decent sized screen too.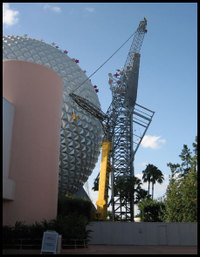 Speaking of Spaceship Earth work continues on the outside of the geodesic dome to remove the wand and other clutter. They're getting closer.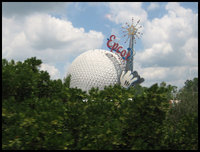 Here's what it looked like on the last day before the crane arrived. It will be so nice to see it rising above the tree line in all its original pristine glory.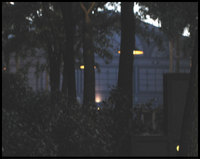 Still in Epcot, the World Showplace, first used in the Millennium Celebration, has a new facade that hearkens back to the days of 19th century world's fairs. It's a blue color with dark blue lines. (Sorry for the photo quality, it was dark).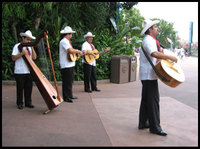 Over in Mexico, the new attraction still fails to draw a queue, but it's a high capacity attraction, so maybe that isn't a fair metric. I did enjoy this four-piece group that entertained the crowds. Anyone know what that harp looking instrument is called?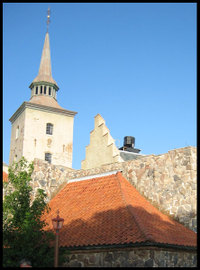 There have been some new powerful spotlights installed on many of the roofs around the World Showcase. Alas, some of them aren't hidden very well. Both these shots were taken from right in the middle of the main guest walkway around the World Showcase. Are these for the new Illuminations Finale for Epcot's 25th Anniversary? A boy can dream…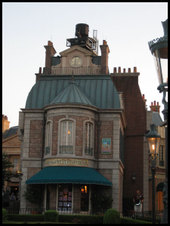 The one in France is particularly obvious from most of the pavilion. Please find someway to theme these to the building or hide them during the day.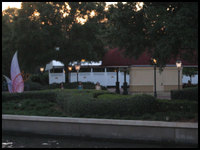 Before we leave Epcot, I did notice a little construction going on over by the International Gateway. That area was originally designed as a bus and limo dropoff. However, it hasn't been used for that in many years. I wonder what the plans are now.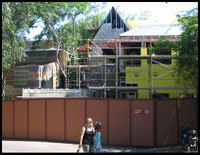 We head over to Disney's Animal Kingdom for a quick stop. These pictures of Yak & Yeti, the new sit down restaurant, are a few weeks old.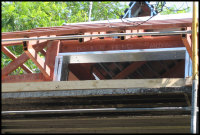 However, I wanted to show you this bit of construction humor that won't be visible once construction has progressed a bit further. It reads "Don't Feed The Animals." I wonder which animals they're referring too? The park residents or the construction workers?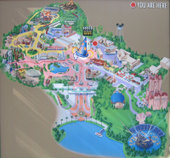 One quick image from Disney-MGM Studios. Here the map shows guests how to detour around the construction for Toy Story Mania.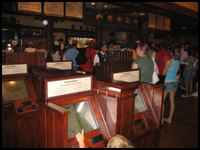 Over to the Magic Kingdom. They've added self-service 'express' kiosks at Pecos Bill Cafe. I've never saw a single guest use them, even during heavy lunch traffic. My main problem is that you can't customize your order at all. So if you have a family of four and one person wants to substitute fruit for fries then the whole party has to go wait in the regular queue. They do have similar kiosks elsewhere in the resort that do allow you to customize your order; I wonder if we'll see that at Pecos Bills soon.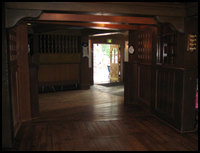 Staying at the restaurants, The Harbor Galley did some remodeling while the Haunted Mansion was down. They tore down a wall and made some extra room for guests to navigate around the crowds lined up at the order stations.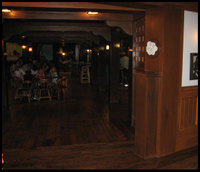 They did such a good job on the change that I didn't even notice the new walkway until my second visit after the remodel job. There used to be two tables right there.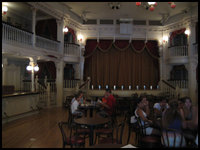 To help deal with the extra summer crowds, the Magic Kingdom opened a temporary restaurant location inside the Diamond Horseshoe. Its just wrapped sandwiches, chips, and bottled sodas. But its air conditioned and much better than not having access to this beautiful space. The fact that this location is not open on a regular basis with entertainment of some sort is a crime. Billy and the Hillbillies is a six person operation. (4 performers and 2 techs.) It packs in the people at Disneyland. Dana Daniels was a four person operation (five if you count Luigi). I believe Dana is even available for booking. Surely they could find some show for the space.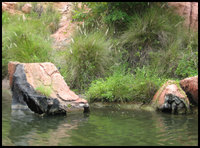 With the Liberty Belle out of commission for so long, many of the show elements around the Rivers Of America have fallen into disrepair. Those rocks need help. How about showing a little love for the river area, Disney.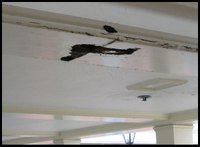 The lower levels at dock for the sternwheeler have some wood rot issues too. Wood rot around water is a constant in Florida. But that's no excuse for not being vigilant. Even if it is a steel structure, the wood rot just looks awful, like Disney doesn't care for the place.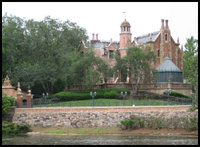 There is some work going on around the park. The Haunted Mansion is getting new show elements, but the outside of the building facade is getting some work done too. For one, the canopy is missing from the queue area. If it doesn't come back, I'll miss the shade and the fans, but the view from the river is certainly more pleasant. There used to be a topiary design on the grass at one time. It would be wonderful to see that return.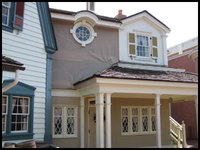 In Liberty Square they're working on the exteriors of a couple buildings that were beginning to experience some wood rot and other problems. This photo is from a few weeks ago, but as of last weekend it looked nearly the same.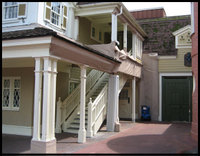 Here it is from the other side. In Fantasyland when they did similar work, they put up a themed wrap. Here they've just tried to hide it with a neutral brown tarp. Let's hope they get this project finished soon.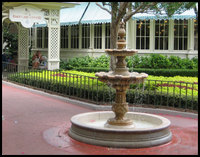 They've also fixed the water fountain outside of the Baby Care center at the Magic Kingdom. This had been filled with flowers as a planter for many months. I wasn't sure if that was part of a water conservation effort, but now it looks like it was just poor maintenance. Nice to have it back.
As you can see there is always plenty of work going on around the Walt Disney World resort. Some stuff is getting neglected, but other areas are getting much needed fixes. If you read this far and you like these kind of updates I'll try and pull one together every month or so.