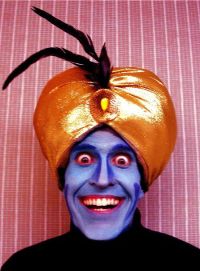 So, I'm reading through my usual staple of blogs and come across a post about BioFuels and genetic engineering with this photo attached. I have to do a double take. Yep, that's Maynard. How could everyone's favorite Disneyland castmember end up in a picture on TreeHugger.com a green consciousness themed blog, let alone dressed as a blue Genie? Seriously, that man pops up everywhere!
If you don't know Maynard you can learn more about him at his homepage (http://www.maynardsmith.com/). He's renown for his kookie and energetic performances as a cast member at every attraction he works. Here's he's doing one of his "brothers" Genie Maynard as entertainment at a corporate party. He's also done voiceover work (he has over a 1000 character voices) and some independent film work.
Currently Maynard appears to be doing a gig at the San Diego Zoo. Anyone know if he's no longer working at Disneyland? That would be sad.