In the past certain Disney films had acquired some meaning among the drug culture, like Fantasia and acid trips. at some point after they were released. But these t-shirts on sale at Walt Disney World are entering new territory as they're designed to capitalize on drug culture in the first place.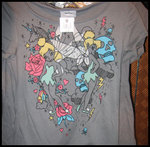 The gray t-shirt features a good Tink and a bad Tink clearly positioning her along side the green fairy familiarly associated with Absinthe. The background art of unicorns and skulls are reminiscent of drug icons and paraphernalia.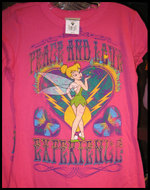 The Pink Tink Tee alludes to the acid trips and drug culture, of the 60s and 70s. Both shirts have psychedelic qualities in their design. Both were for sale this weekend in the MouseGears store at Epcot. I could understand seeing something like this at Hot Topic maybe. But right there inside a Disney theme park? Who is watching the character branding these days?