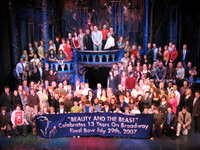 Some have thought that with Tarzan being shown the door off Broadway, that Beauty and The Beast might get a reprieve. But it is not to be. The show closes for good this Sunday.
In what seems like an odd move, one of the cast members from these final few nights has posted a photo essay with some pointed comments on the hot political blog of the day, The Daily Kos.
The original poster was left wondering why Disney is going to close a show that is still making the company money. Seems like a good question. It can be easy to forget that there are real people on the otherside of those stage lights and costumes. Real people who will now be drawing unemployment.
I never saw the Broadway show, just the touring production when it was in Los Angeles. That version will live on. I still listen to the OBC Recording in my car all the time. In many ways it will never end. Thanks to all the cast and crew who helped make the magic for so many years in all the versions of the show.