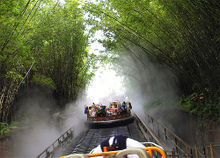 Update: LaughingPlace.com reports the Kali River Rapids has reopened. In inspection found nothing wrong with the attraction, just the evacuation method used. Disney will use an alternate evacuation method if needed.
The Orlando Sentinel is reporting that 6 people, 5 guests and a cast member, were injured during an attraction evacuation on the Kali River Rapids water raft attraction at Disney's Animal Kingdom. The guests were being evacuated from the attraction on one of the steep uphill lifts. The injuries occured when the emergency unloading platform malfunctioned. Luckily none of the injuries appear life-threatening, although the cast member suffered a possible broken bone.
My wife and I were just thinking of taking our 3.66 year old on Kali River Rapids since he's now tall enough to meet the height requirements. We'd been hesitating since he can't yet swim, but I convinced her by saying that none of Disney's water raft attractions had ever made a major malfunction, let alone flipped over. (I believe Disney uses specially weighted rafts that are designed not to capsize, but nothing is fool proof). I think we might be revisiting that conversation.
Here's wishing a swift recovery to all involved. The attraction remains closed while Disney investigates what went wrong. (Link) (photo courtesy Hamachi! on Flickr via CC license)