Sorry Ken, I'm calling bullshit on this one. Anyone who spends three seconds comparing this guy's sketch to the very earliest cartoons of Mickey Mouse knows what this guy has is a fake. It might be an authentic Disney Studios product, but it's not an early sketch of the mouse. See this still from 'Plane Crazy' the first Mickey Mouse film that went into production.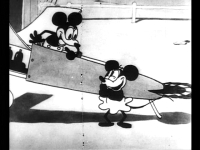 I'm wondering if reporters ever fact check anymore? First Mickey didn't have the famous 'pie-eyes' until the early 1930s. I think he gained his white gloves before that, but he didn't have them early on. That's for sure. Disney should quietly let this guy know he has no leg to stand on and if he persists counter-sue him for defamation.
-John, Editor
Hey, that's what I love about blogs. Bull like this can be exposed very easily. I wasn't backing his claim, I was just reporting what he was claiming and that it has been in the news.
-Ken
Fox 13 TV in Tampa Bay brings us this interesting story of a man who found a great deal on vintage Mickey Mouse art who is now trying to get millions of dollars from The Walt Disney Company.
Clearwater resident Steven Stein thinks he has Disney's original drawing of the famous character.

"Nobody else would have done anything this big of this character in the 1920's except Walt Disney," Stein claimed.

Stein says he paid a New York City thrift store $3 for the drawing in 1984, and he says he's spent many years and many dollars authenticating the artwork.

"I've had the ink test-dated. I've had the paper test-dated. The ink tests to the mid 1920's," he said.
He got it for peanuts, considering. But there's more.
Now Stein is taking Disney to court.

"I'm suing them for $50-million, the copyright on Mickey Mouse, and the right to tell the Walt Disney story," said Stein.

Stein believes somebody must have a copy of an old newsreel showing his drawing over the shoulder of a very young Walt Disney.

Perhaps his lawsuit will flush that film out, and prove he possesses one very valuable mouse.
Somehow I doubt that merely owning this drawing, even if it was the first depiction of Mickey Mouse ever, would mean owning the copyright. There are many, many ways a corporate lawyer can argue against this.