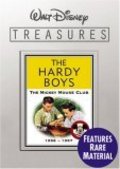 The San Diego Union Tribune reviews the newly released Walt Disney Treasures – The Mickey Mouse Club Featuring the Hardy Boys
and find it stands the test of time.

Fifty years after it debuted on "The Mickey Mouse Club," the "Hardy
Boys" serial retains its entertainment value surprisingly well in the
sixth set of four "Walt Disney Treasures" DVDs.


Starring Tim Considine as Frank Hardy and Tommy
Kirk as his younger brother Joe, the first of two serials presented
here, "The Mystery of the Applegate Treasure," coincidentally feeds the
fascination with pirates so successfully marketed through Disney's
"Pirates of the Caribbean" movies and theme-park ride.
I'll admit I grew up on reruns of this stuff. Glad to see it getting the 'Treasures' treatment. (Read)