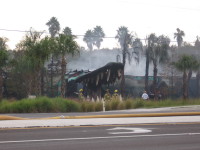 It's a sad day for Central Florida. One of our original and best loved attractions was nearly lost to fire. Gatorland lost the adminstration, gift shop, and main exhibit building. Additionally damaged was suffered to some of the walk-way structures. No official word on loss of animal life but some is expected.
My wife played the role of photographer this morning and went to the scene, located just a few blocks from our home and right across the street from my son's day care, and snapped a few pics which I've put up on Flickr.
The Orlando Sentinel has its usual indepth coverage of local events. With a detailed main story and photos showing how extensive the damage is. Also reporter Scott Powers has blogged of the news on the Central Florida Tourism blog.
A lot of people are posting their rememberences and appreciations of Gatorland on their blogs.
Finally, the world-famous Gator Mouth Icon is not made of asbestos as I speculated, but rather concrete. Like the giant jaws I think Gatorland will survive this fire and return, hopefully, better than ever with new exhibits, new animals, and a better sprinkler system.
Previously:
Gatorland on fire!