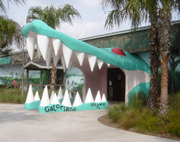 Gatorland, a Central Florida attraction since 1949, is on fire this morning. The fire was discovered in the Gift Shop, already burning through the famous gator mouth entry way. While the fire appears to be mostly confined to the large building that houses the initial giftshop, cashier building, and one of the walk-ways, there are only a few animals stored in that main building (most are relocated every night). Unfortunately the news reports indicate they weren't able to rescue those animals. Thankfully, all personnel made it out safe.
Gatorland is a 110-acre theme park and wildlife preserve that features pools and exhibits full of Alligators, snakes, birds, and other animals. It is owned and run by the Godwin family, the original park owners. The park does feature some live web-cams, but alas, they aren't working right now. This is a real slice of Central Florida history going up in smoke. Very tragic.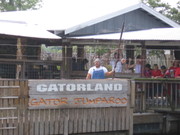 Updates: As I watch the fire is spreading down the walkways. Those walkways are pretty much all wood, old wood too. Hopefully this won't get too bad.
They just showed a picture online and the Gator Mouth icon was charred and will likely have to be rebuilt along with the whole structure.
Park officials are reportedly optimistic about reopening as soon as next week using an alternate entrance.
I've added addtional coverage and photos.