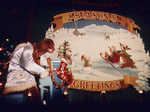 Has the Country Bear's Christmas Show been retired? So says a rumor going around the Disney fan boards this week. This is admittedly a rumor only. But it has some traction in the Disney fan community.
The rumor is that Walt Disney World management has decided to save a little money by not switching the costumes, audio-animatronic controls, and decor of the attraction to the holiday show. Not sure how much money this would save, but it can't be worth the loss of the holiday spirit the show provides that area of the park. It's a popular show that has fans returning to the park each holiday season to see it.
If anything, Disney should be adding holiday traditions instead of removing them and reverse a trend that has been going on since the early 90s. Disneyland learned the error of their ways and added on tons of Holiday spirit and has been rewarded with record crowds for five years running. If you agree consider writing the company and letting them know. The addresses are below the cut.
Here are the main people to contact:
Guest [email protected]…
a.k.a. Walt Disney World Guest Communications
PO Box 10040
Lake Buena Vista, FL 32830-0040
(THIS IS THE EASIEST WAY)
or try [email protected]
Mr. Phil Holmes
Vice President of Magic Kingdom Operations
PO Box 10000
Lake Buena Vista, FL 32830
Ms. Meg Crofton
President
The Walt Disney World Resort
PO Box 10040
Lake Buena Vista, FL 32830
Ms. Erin Wallace
Vice President
The Walt Disney World Resort
PO Box 10040
Lake Buena Vista, FL 32830