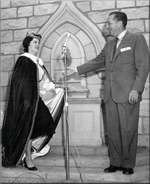 In April 1957 Disneyland opened up the Walk-Through portion of Sleeping Beauty Castle. Gorilla's Don't Blog has unearthed pictures of the original dedication ceremony with Walt Disney and Shirley Temple. Temple had previously presented Walt with the special 7 dwarves oscar statue in 1939.
The Walk-Through existed for many years in its original form with low-tech exhibits, peek-throughs, an 8-track echo loop tape, and dark hallways. At some point circa 1977 (anybody have the exact date?) it was updated with more moving figures and better effects. The attraction suffered from poor signage, small crowds, and dark hallways. So it risked permanent closure a couple of times. Finally, the walk-through was closed after the events of 9-11-2001.
I'd love to see this attraction return in some format. It would just be tough to guarantee the safety of the building since it's essentially made from 50 year old plywood.
Stuff from the Park blog has a better color picture from 1960 of the entrance.