In addition to today's announcement that Soarin' at EPCOT would be getting a third theater, Disney announced that a third…
Still have a few Baby Einstein DVDs laying around the house? A new study backs up claims that the DVD's…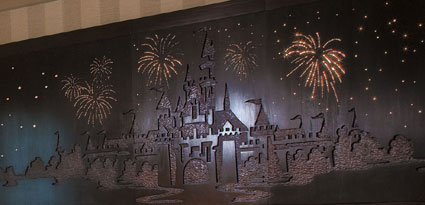 From almost the moment the Walt Disney Company took over ownership of the Disneyland Hotel from the Wrather company in 1988 the question has been, will they keep the towers or remodel them. So far during every renovation the answer has 'keep the towers'.
There had been some rumors that one or more of the towers was scheduled for demolition in the next scheduled renovation, but it now looks like that plan has been scuttled (likely due to the economy) and again they'll be focusing on making each room a masterpiece as best they can while constrained by the original tower specifications.
That said, there's a lot of really cool stuff included this time around, including another remake of the hotel grounds, green upgrades, and some crafty use of fiber optics to make your hotel stay dramatically more magical. For instance, the backboard (seen above) features fiber optic fireworks above Sleeping Beauty Castle and a hidden mickey too!.
The full press release highlighting this round of changes, along with more photos of what the finished room will look like, is below the cut: