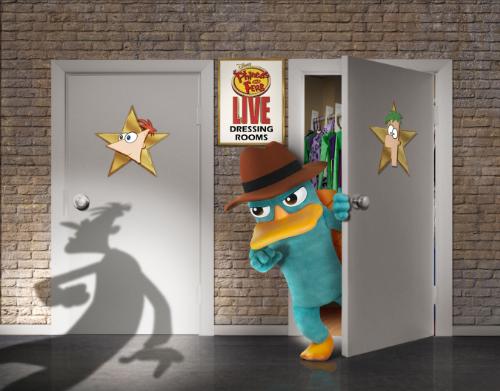 Like one of Dr. Doofenschmirtz' quirky ideas, Disney's plans for its Phineas and Ferb franchise are starting to spread like wildfire beyond the Tri-state area. Feld Entertainment, the group responsible for Disney Live!, Disney On Ice, and Ringling Bros and Barnum Bailey Circus will be bringing a touring stage show featuring the gang from the popular show to life.
Disney's Phineas and Ferb: The Best LIVE Tour Ever!, brings Phineas, Ferb, Candace, Isabella, Baljeet, Buford and friends to the stage as they make the most of  the last day of summer by building an invention bigger, better and more amazing than ever. Before anyone can wonder "Hey! Where's Perry?," the pet platypus dons his Agent P fedora, and hilarious hijinks unfold as he battles Dr. Doofenshmirtz to save the Danville Tri-state area and audiences everywhere from the evil scientist's most havoc-wreaking scheme to date.
Sound like fun? It's definitely better than just a meet and greet at the parks. I'm glad to see Disney doing more with this property. Will you see it if it comes near you?
Read the exciting press release below the jump:
Read More »Feld brings Disney's Phineas and Ferb to the stage for tour