Change is coming fast to Downtown Disney as it transforms into Disney Springs. I'd heard the new pedestrian connector bridge…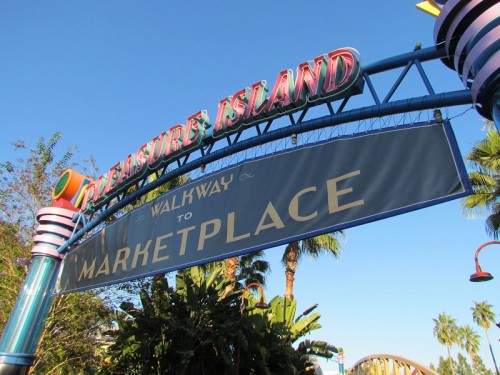 Downtown Disney is at the start of a multi-year project that will transform it into a shopping, dining, and entertainment complex called Disney Springs. With construction of the first parking garage underway, things are getting serious. Over the weekend, I stopped by to see how traffic and parking was flowing.
It turns out things aren't too bad. However, Disney is being crafty with its directions to open parking lots. The T-Rex and marketplace parking lots will always fill up early on busy days, but there was still plenty of parking down by Cirque du Soliel's La Nouba, even though the street signs all directed guests to park and one of the two remote parking lots across the street. I followed the signs just to see where they led and ended up parking at Team Disney building. It was actually a pleasant experience with a shuttle that picks up and drops off right at La Nouba. I avoided the unpleasant hunt for a parking spot and only added a few minutes delay in waiting for the shuttle. You can walk across the street if you desire.
At Downtown Disney itself, there are walls everywhere, a bit more demolishing has occurred, and they have started construction on what will be the first new building of Disney Springs. That and more in our photo tour below the jump:
Walt Disney mortgaged nearly everything he owned and sold TV rights to ABC in order to get enough money to…