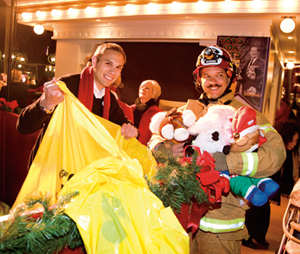 The Cast Members of Disneyland Resort are really going the extra mile this holiday season. More than 10,000 individuals will benefit from the contributions of food, toys, clothing and care packages will help numerous nonprofit organizations throughout Orange County.
"The Disneyland Resort is focused on giving back to the community throughout the year. The holiday season makes it a particularly special time to extend our resources to those in need. Thanks to the generosity of our Cast Members, the Disneyland Resort is helping to fulfill numerous wishes in our community and for the brave men and women serving our country overseas," said Ed Grier, president of Disneyland Resort.
As part of an annual tradition, Cast Members donated nearly 10,000 toys for the Toys for Tots Foundation. Most of the toys collected were brought to the annual Disney Family Holiday Party, a celebration hosted by the Resort exclusively for Cast Members and their families at Disneyland Park.
(photo courtesy Disney -:- Disneyland Resort Ambassador David Gill and a local firefighter help in collecting toys for Toys for Tots at the annual Disney Family Holiday Party.)
More examples of good below the cut: