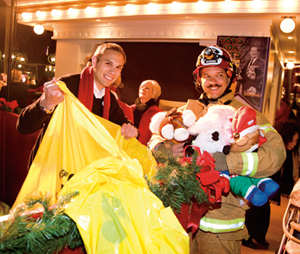 The Cast Members of Disneyland Resort are really going the extra mile this holiday season. More than 10,000 individuals will benefit from the contributions of food, toys, clothing and care packages will help numerous nonprofit organizations throughout Orange County.
"The Disneyland Resort is focused on giving back to the community throughout the year. The holiday season makes it a particularly special time to extend our resources to those in need. Thanks to the generosity of our Cast Members, the Disneyland Resort is helping to fulfill numerous wishes in our community and for the brave men and women serving our country overseas," said Ed Grier, president of Disneyland Resort.
As part of an annual tradition, Cast Members donated nearly 10,000 toys for the Toys for Tots Foundation. Most of the toys collected were brought to the annual Disney Family Holiday Party, a celebration hosted by the Resort exclusively for Cast Members and their families at Disneyland Park.
(photo courtesy Disney -:- Disneyland Resort Ambassador David Gill and a local firefighter help in collecting toys for Toys for Tots at the annual Disney Family Holiday Party.)
More examples of good below the cut:

SUPPORTING OUR MILITARY
The holiday spirit extended itself across the miles as Cast Members assembled 2,500 care packages to send to military personnel overseas. The packages were shipped in November and included everything from beef jerky to books and disposable cameras. However, the most special component of the packages were the handwritten postcards that accompanied them. The cards were part of Operation Uplift, a program that began at Disneyland in 1995 and encourages Cast Members to send messages of thanks and support to our troops. The cards are designed by children related to Cast Members and typically feature Disney characters. The program has spread to Disney sites throughout the country and more than 100,000 postcards have been sent to troops around the world.
ADOPTING LOCAL FAMILIES
This year, the Disneyland Resort's Adopt-A-Family program helped to provide day-to-day necessities to nearly 700 individuals. From children to senior citizens, Cast Members adopted individuals and families and fulfilled their wish lists for items including pillows, toiletries, clothing and toys. A team of Disney VoluntEARS also adopted Walnut Manor Senior Center and hosted its holiday party, bringing gifts and providing the highlight of the party – an appearance by Mickey Mouse.