Push may be long gone, but there are other talking trashcans at Walt Disney World. Guests dining at the Electric…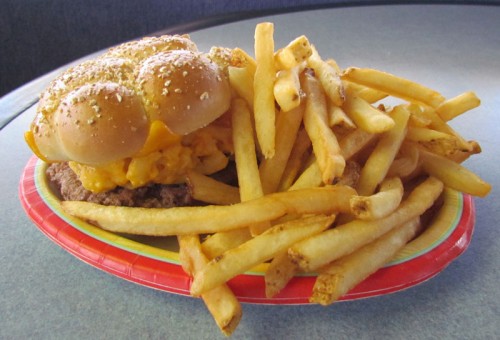 So I heard a Mac & Cheese Burger had been added to the menu at Electric Umbrella, which made my choice of themeparks to visit this weekend easy. Macaroni and Cheese is one of my favorite comfort foods and my kid has a full on love affair for the stuff.
To be honest, I was a bit hesitant when I first heard about the idea. I had tried the Macaroni & Cheese and truffle oil gourmet hot dog over at Fairfax Fare in DHS and wasn't impressed, not for the price at least. My son loved it, however. So we agreed to split the new burger and share a salad in an attempt to be a little healthier.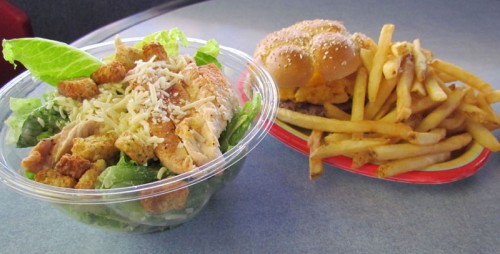 The Macaroni & Cheese burger is a full 1/3 lb Angus Burger that is topped with a generous portion of bacon, a nice slide of cheddar cheese, and a scoop of baked macaroni & cheese. You can also choose grapes instead of fries for your side. I found the bun a nice size, easy enough to get your hand around, if a bit crumbly. It's served dry, so stop by the condiment bar on your way to the table if that's your thing.