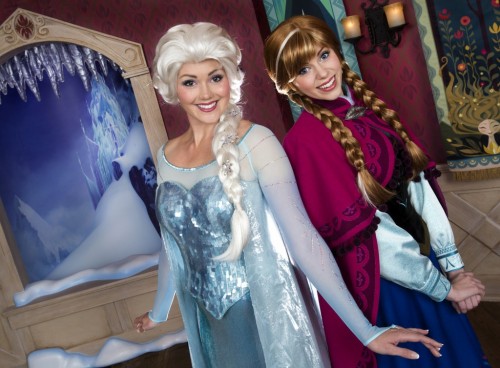 For a limited time Southern California residents who want to get in on the "Frozen Fun" at Disneyland and Disney California Adventure can save with a discounted 2-day ticket for $139 or a 3-day tixket for $169. Upgrades to include park hopping are also available.
Admission is valid through May 21, 2015 with blocked out dates of March 20-APril 4, 2015. You must live within ZIP codes 90000-93599 or in Northern Baja within 21000-22999 and proof of residency is required to enter the parks. Tickets can be purchased at the park, disney stores, and at some Vons grocery stores in the area.
'Frozen Fun' at Disney California Adventure Park
"Frozen Fun" in Disney California Adventure, a new limited-time offering, includes "Anna & Elsa's Royal Welcome," an elegant location inside the Disney Animation building for Anna and Elsa to receive visitors. Guests may reserve a time to meet the charming sisters by utilizing a Return Time ticket, available just outside the Animation building. Elsewhere in the Disney Animation building, guests at the Animation Academy will be asked "Do You Want to Draw a Snowman?" – with an Olaf drawing experience.