I'm going to collect some of my favorite travel books here. They're mostly Disney, but also include some other Orlando travel books, or just books you might enjoy if you're traveling.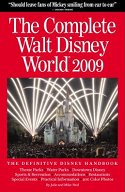 The Complete Walt Disney World 2009 by Julie Neal and Mike Neal (Softcover – 336 full color pages). By far the most beautiful and information rich of the various Walt Disney World guides. Good for the theme park veteran or the first time traveler. Price: $ 21.50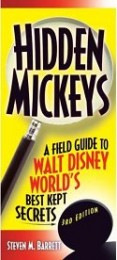 Hidden Mickeys: A Field Guide to Walt Disney World's Best-Kept Secret by Steven Barrett (Softcover – 220 pages)
3rd edition. I can't tell you how many of these books I see people carrying around in the parks. They're all having fun by layering on the added details you can discover with this guide. Highly recommended for those who have been to the parks before. Price: $ 15.25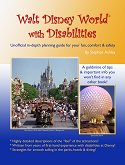 Walt Disney World with Disabilities by Stephen Ashley (Softcover – 196 pages). Walt Disney World with Disabilities is designed for people with health issues, disabilities and special needs. This book gives you the advance information you need to plan a safe, comfortable and fun trip. I've used the advice from this book many times in the park and find it to be solid information. My only complaint is the size of the book which doesn't lend itself to portability, so take notes before arriving in Orlando. Price: $ 21.50
101 Things You Never Knew About Walt Disney World (2nd Edition)
by Kevin Yee (Softcover – 157 pages). Publisher: Ultimate Orlando
This 2nd Edition of Kevin Yee's Best Selling book now has double the text and tons of photos. See my full review here.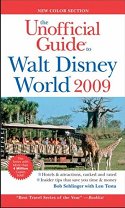 The Unofficial Guide Walt Disney World 2009 (Softcover – 864 pages). It's hard to go wrong with this guidebook. Known for its extensive research leading to great 'touring plans' for the average guest, it's worth buying just to know what to avoid as the crowds all follow its advice. Price: $ 18.00
Other Orlando Attractions:
SeaWorld, Discovery Cove & Aquatica: Orlando's Salute to the Seas
by Kelly Monaghan. Best book on SeaWorld's Orlando properties by far. You'll learn all the ins and outs to make your day more efficient and enjoyable.
Universal Orlando 2009: The Ultimate Guide to the Ultimate Theme Park Adventure
by Kelly Monaghan. The best guide to Universal Orlando. Very useful for planning your stay. Has some good insights on the resort's hotels as well. You'll have a new appreciation of Universal Orlando's two parks after reading this one.