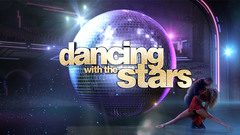 Week 7 of the Dancing With the Stars brought us a Halloween special complete with special effects, themed dances, and elaborate makeup and costumes on the dancers, hosts, judges, and even the band members.
To start the night, David and Kym performed a cha cha (complete with magic tricks) to "Abracadabra" by Steve Miller Band. David is still working hard, but taking plenty of time to let his goofy side out. Len said his dance provided lots of tricks and lots of treats, Bruno shouted some inscrutable praise, and Carrie Ann was impressed with David's phenomenal improvement. Triple 8s gave the pair a 24.
J.R. and Karina tangoed to the theme from "Ghostbusters." Karina was undoubtedly the sexiest ghost I've ever seen, and J.R. was a crowd-pleaser as usual. Bruno said the performance was solid, even though J.R. lost his timing a little bit. Carrie Ann loved the tone of the dance, but Len thought that it was substandard compared to J.R.'s previous weeks. The pair scored a 25 (9, 8, 8).
Read More »Dancing With the Stars, Week 7 Recap – Trick or Treat?