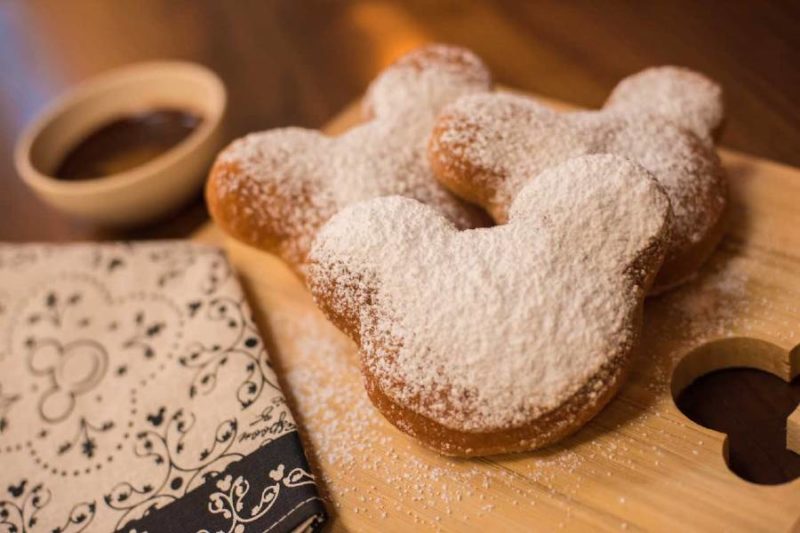 Get out your baking equipment and strap on that apron, it's time to recreate another iconic Disney treat at home in your own kitchen – The Mickey Mouse Icon shaped Beignets from Port Orleans Resort at Walt Disney World and New Orleans Square at the original Disneyland.
These fluffy bits of deep fried dough are dusted with powdered sugar and best when served hot.
They were also featured in Disney animation's "The Princess and the Frog." Feel free to take inspiration from Tiana and that on in the background if you want to really get in the spirit. 
Recipe: Mickey Mouse-shaped Beignets
Use this recipe to make 10 large Mickey Mouse-shaped beignets or 2 dozen small beignets.
Ingredients:
1 teaspoon dry yeast
1/4 cup warm water (105°)
1/4 cup sugar
2 tablespoons vegetable shortening
1/2 teaspoon salt
1/2 cup heavy cream
1 egg
4 cups all-purpose flour
1/2 cup boiling water
Vegetable oil for frying
Powdered sugar
Directions:
Reactivate your yeast by sprinkling it over warm water in a small bowl, then stir until it dissolves. Let stand for 5 minutes.
Next add the sugar, shortening, salt, heavy cream, egg, flour and boiling water into a large bowl; then stir in yeast mixture. 
Using the dough hook attachment on an electric mixer on medium speed, mix the dough until it is just combined and smooth on the outside. Cover the bowl with a towel and let the dough rest for 30 minutes on the counter.
Roll to 1/4-inch thickness and cut out each beignet using a Mickey Mouse-shaped cutter or cut into 2 1/2 to 3-inch squares. Let rest again by covering with a towel until the dough rises and doubles in size in a warm, draft-free area. Should take about 1 to 1 1/2 hours. 
When cooking with hot oil, always be cautious. Heat up 3 inches of vegetable oil to 350°F in a deep, heavy pot over medium-high heat. Fry beignets until golden brown, about 2 to 3 minutes, turning as soon as they brown on one side. Remove with tongs or wire mesh spoon and place on paper towels to drain. 
Finish by dusting warm beignets with powdered sugar and serve immediately.
If you try this at home, let us know how they turned out in the comments or on Facebook!
Note: When Disney makes beignets at it's parks, the recipe feeds a lot more people, so this recipe has been converted from a larger quantity in the restaurant kitchens. As a result you may have to tweak it a bit to get a flavor profile exactly like you remember from eating them at Disney. Always supervise children who are helping or nearby.
Want a print at home version of this recipe? Download it from the Disney Parks website.