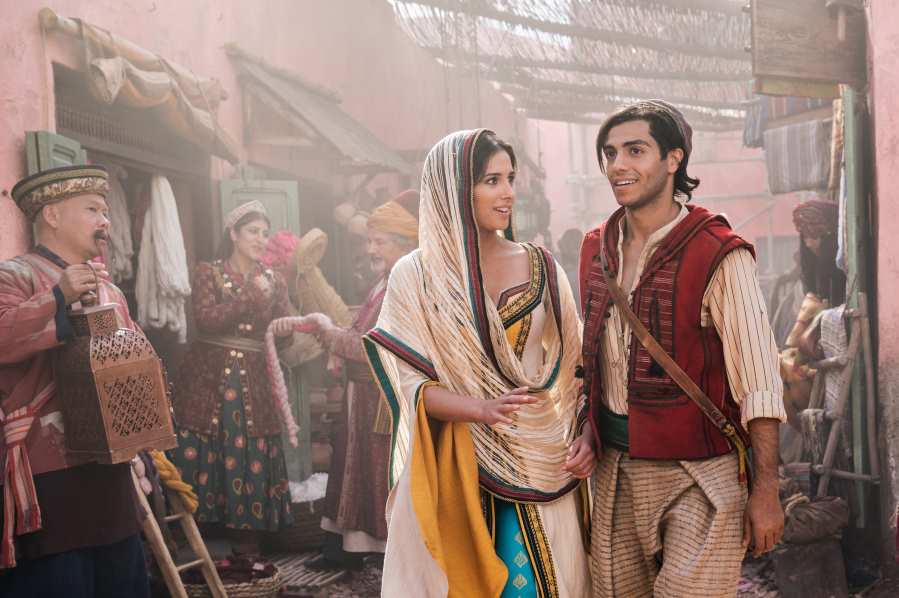 Creating the world of Aladdin required traveling across the world for on-location sets in Jordan and creating a whole new world for the movie's primary location – Agrabah. Before you go see the movie this weekend, watch two new behind the scenes trailers.
First up, a new special featurette trailer for the movie looks at how the world of Aladdin was created:
For fans of Game of Thrones, which just wrapped up its final season in fitting fashion, you'll see in the set design for Aladdin, the work of production designer Gemma Jackson, who won an Emmy award for her work on Game of Thrones. Jackson worked to bring the fictitious city of Agrabah to life for the big screen.
Jackson envisioned the city as a gateway to the Eastern world with a vibrant array of colors, cultures and sounds. Her inspirations came primarily from Moroccan, Persian and Turkish architecture and featured elements of Arab, Indian and South Asian cultures, since Agrabah is an Arab country on the Silk Road where cultural influences from other cultures in the regions could be found.
The art department, under the supervision of Gemma Jackson, built the massive Agrabah set outdoors on a tarmac the size of two football fields at Longcross Studios in just 15 weeks.
Set decoration for Agrabah included fabrics, textiles and carvings similar to those found in Marrakesh, lots of colorful woods, metals, fruits and vegetables and a 1,000-year-old olive tree.
The Agrabah courtyard, market stalls, narrow alleys and cluttered rooftops were designed to accommodate the extensive choreography and stunts featured in the musical numbers "One Jump Ahead" and "Prince Ali."
A whole new song
A second behind the scenes trailer looks at the character of Princess Jasmine and a new song written for her — "Speechless."
Learn more about the soundtrack for Disney's Aladdin, which is available to order now, in our previous post.
Disney's Aladdin opens in Theaters on May 24.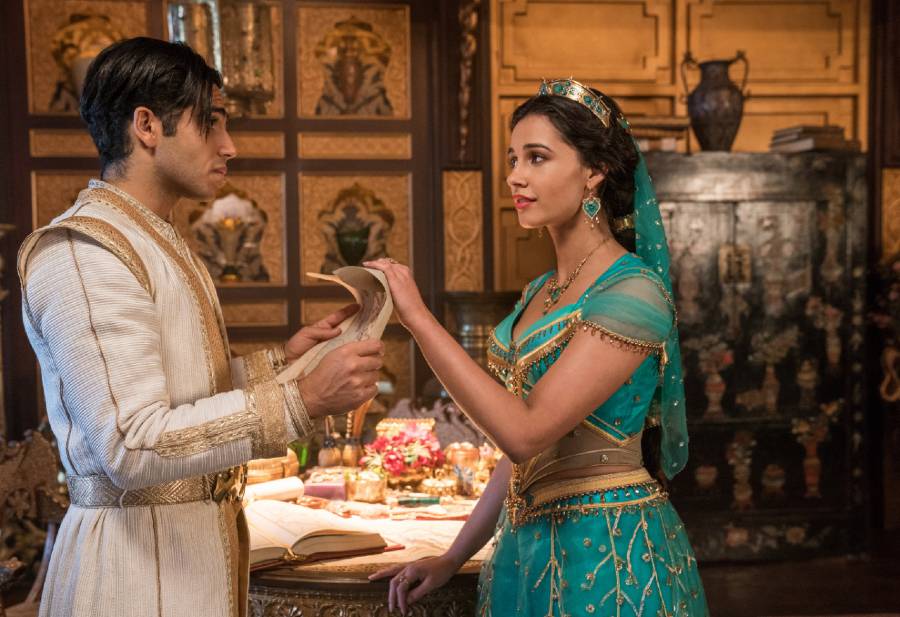 About the film:
A thrilling and vibrant live-action adaptation of Disney's animated classic, "Aladdin" is the exciting tale of the charming street rat Aladdin, the courageous and self-determined Princess Jasmine and the Genie who may be the key to their future. Directed by Guy Ritchie, who brings his singular flair for fast-paced, visceral action to the fictitious port city of Agrabah, "Aladdin" is written by John August and Ritchie based on Disney's "Aladdin." The film stars Will Smith as the Genie; Mena Massoud as Aladdin; Naomi Scott as Jasmine; Marwan Kenzari as Jafar; Navid Negahban as the Sultan; Nasim Pedrad as Dalia and Billy Magnussen as Prince Anders.
"Aladdin" is produced by Dan Lin, p.g.a., and Jonathan Eirich, p.g.a., with Kevin De La Noy and Marc Platt serving as executive producers. Eight-time Academy Award-winning composer Alan Menken provides the score, which includes new recordings of the original songs written by Menken and Oscar-winning lyricists Howard Ashman and Tim Rice and includes two new songs written by Menken and lyrics by Oscar and Tony Award-winning songwriters Benj Pasek and Justin Paul.