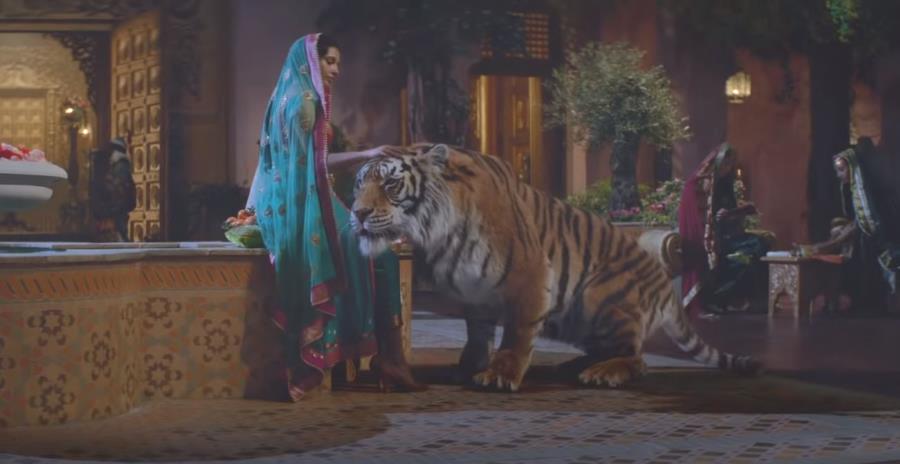 Disney's next big live-action movie adaption is just one jump away now and the marketing is heavy. A new TV spot from Disney's Aladdin introduces us to Dalia (Nasim Pedrad), Princess Jasmine's closest friend and confidante, and Aladdin gets up close and personal with the tiger Rajah.
I have to say that the latest trailers have been a lot better that the first few. I think I'm warming up to the movie.
Nice Kitty!
Guy Ritchie directs Disney's Aladdin and he brings his flair for fast-paced, visceral action to the movie. Here's how he sees his project:
"I saw this as a sort of clash between two worlds. It's a story about a street kid dealing with his insecurities in a Disney environment. The Disney environment gave me a new space in which to discover and experience a world familiar to me that I already feel confident in," says Ritchie. "I like embarking on new, creative challenges, and this certainly was one."
While "Aladdin" is one of the definitive tales about a hustler who ultimately makes good, it is also a full‐fledged musical, something Ritchie found appealing. "I was interested in doing a musical," he says. "I've got five kids, so that does influence the decisions that you make, and my house was all about Disney at the time."
The cast talks about their participation in the film in the new featurette – Cast of Wonders:
About Disney's Aladdin:
A thrilling and vibrant live-action adaptation of Disney's animated classic, "Aladdin" is the exciting tale of the charming street rat Aladdin, the courageous and self-determined Princess Jasmine and the Genie who may be the key to their future. Directed by Guy Ritchie, who brings his singular flair for fast-paced, visceral action to the fictitious port city of Agrabah, "Aladdin" is written by John August and Ritchie based on Disney's "Aladdin." The film stars Will Smith as the Genie; Mena Massoud as Aladdin; Naomi Scott as Jasmine; Marwan Kenzari as Jafar; Navid Negahban as the Sultan; Nasim Pedrad as Dalia and Billy Magnussen as Prince Anders.
"Aladdin" is produced by Dan Lin, p.g.a., and Jonathan Eirich, p.g.a., with Kevin De La Noy and Marc Platt serving as executive producers. Eight-time Academy Award®-winning composer Alan Menken provides the score, which includes new recordings of the original songs written by Menken and Oscar®-winning lyricists Howard Ashman and Tim Rice and includes two new songs written by Menken and lyrics by Oscar and Tony Award®-winning songwriters Benj Pasek and Justin Paul.