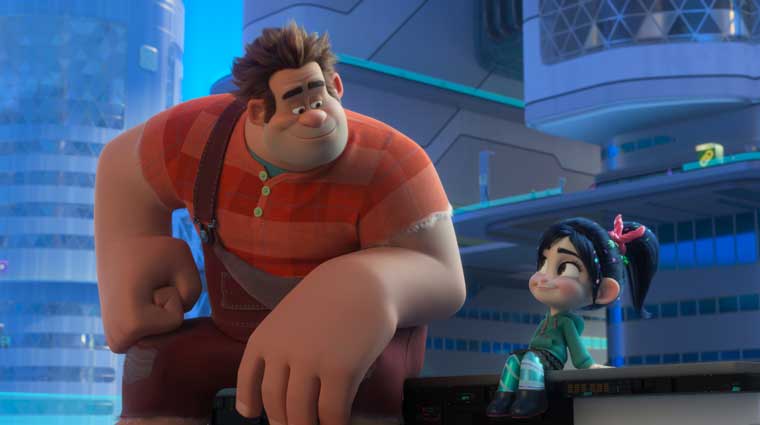 In just a few days we welcome back big screen video-game bad guy Wreck-it Ralph and racing princess Vanellope von Schweetz in the anticipated sequel "Ralph Breaks the Internet." In the 2012 film "Wreck-it Ralph" the pair were thrust together in order to save Vanellope's game 'Sugar Rush' and developed a lasting friendship. Now they have to venture into the fast-paced world of the internet on a new mission.
"Ralph and Vanellope are imperfect characters," says Academy Award-winning director Rich Moore ("Zootopia"), who directed the original film. "But we love them because of their flaws. Their friendship is so genuine—the chemistry between them so engaging—that I think we were all anxious to know more about these characters."
You may recognize a few of your own frustrations with the internet in these three clips:
KnowsMore Clip:
Hearts Clip:
There is No Track Clip:
Do you have a favorite moment in the above clips? I like that Vanellope gets a chance to show off her racing skills again.
About the film:
"Ralph Breaks the Internet" leaves Litwak's video arcade behind, venturing into the uncharted, expansive and thrilling world of the internet—which may or may not survive Ralph's wrecking. Video game bad guy Ralph (voice of John C. Reilly) and fellow misfit Vanellope von Schweetz (voice of Sarah Silverman) must risk it all by traveling to the world wide web in search of a replacement part to save Vanellope's video game, Sugar Rush. In way over their heads, Ralph and Vanellope rely on the citizens of the internet—the netizens—to help navigate their way, including a webite entrepreneur named Yesss (voice of Taraji P. Henson), who is the head algorithm and the heart and soul of trend-making site "BuzzzTube."
Directed by Rich Moore ("Zootopia," "Wreck-It Ralph") and Phil Johnston (co-writer "Wreck-It Ralph," "Cedar Rapids," co-writer "Zootopia,"), and produced by Clark Spencer ("Zootopia," "Wreck-It Ralph," "Bolt"), "Ralph Breaks the Internet" hits theaters on Nov. 21, 2018